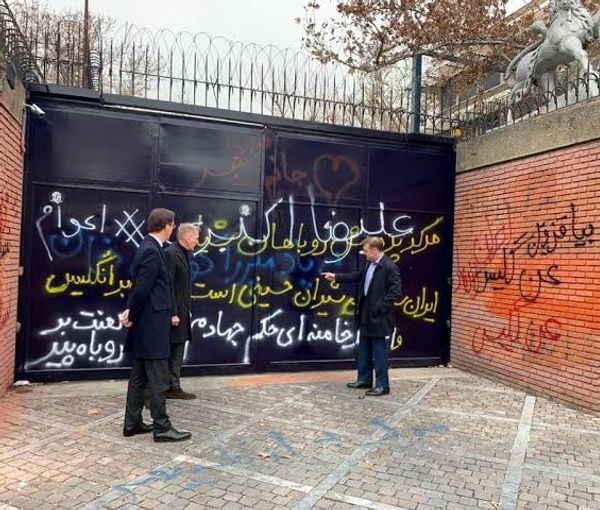 Iran Preparing To Close UK Embassy In Tehran – Report
Iran is reportedly preparing to close the British embassy in Tehran as tensions simmer over a plot to kill journalists in UK, and London's rebuke of crackdown on dissent. 
In an exclusive report on Friday, the Jewish Chronicle claimed that Iranian officials revealed "the possible step" at a secret meeting with ambassadors from Oman, Kuwait, and the United Arab Emirates on Tuesday.
The media outlet cited one of those present at the meeting as saying that the Islamic Republic plans to announce a range of new sanctions to hit back at Britain, which has imposed several rounds of sanctions since the current wave of protests began in the country sparked by the death in custody of 22-year-old Mahsa Amini in September. 
On Wednesday, February 22, Iran's Revolutionary Guard took credit for the relocation of Iran International studiosfrom the UK to the US following terror threats, calling it a victory for the Islamic Republic.
The British embassy in Tehran has been a regular flashpoint in recent years. In December 2022, its walls were defaced by the Basij paramilitary militia, one of the forces operating under the IRGC, with slogans labelling it a "terrorist center". 
According to UK Security Minister Tom Tugendhat, Iran is also hiring organized criminal gangs to spy on Britain's Jews in preparation for a potential assassination campaign against prominent community members. Earlier in the month, Jewish journalist Catherine Perez-Shakdam -- who infiltrated the regime and met Supreme Leader Ali Khamenei -- told the JC the plans were designed to ensure "the diaspora would have a very nasty surprise" in the event of an Israeli attack on Iran's nuclear facilities.