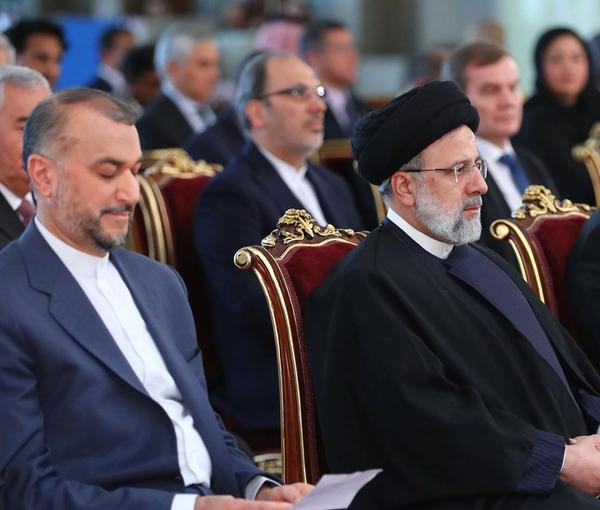 Observers In Iran Criticize Government Intransigence On All Fronts
"Amir-Abdollahian must be the foreign minister of Switzerland, not Iran" quipped commentator Mohammad Mohajeri referring to his interview with the National Public Radio.
Mohajeri, a conservative pundit, was singling out Hossein Amir-Abdollahian's remark in the NPR interview this week where he insisted that no journalists or students were arrested in Iran during the protests.
"I think Mr. Amir-Abdollahian is Switzerland's foreign minister, not Iran's," Mohajeri was quoted as saying on Friday. He added that either Amir-Abdollahian is Switzerland's foreign minister or is uninformed about events in Iran.
"What he has said contradicts all the available information in the media and in the world. These kinds of statements result in nothing but showing that our foreign minister is uninformed," Mohajeri maintained.
He argued that President Ebrahim Raisi's government has not presented any figures on how many people have been arrested during the protests. When officials remain silent, Amir-Abdollahian has no source to claim that no journalists and students were detained. Nevertheless, he emphasized that such gaffes discredit both the foreign minister and the government.
Conservative pundit Mohammad Mohajeri
However, this is not the first time that an Iranian chief diplomat has tried to ignore or misrepresent facts in his attempt to defend the authoritarian regime. Former foreign minister Mohammad Javad Zarif, who was much more popular with Western media, regularly denied human rights violations committed by his government.
As far back as 2015 when Zarif was negotiating the JCPOA nuclear deal with the United States, he told PBS that "We do not jail people for their opinions… But people who commit crimes, who violate the laws of the country, cannot hide by being a journalist, being a political activist."
At the time, these remarks led to a lot of backlash, but Iran's human rights violations were not the priority of Western powers during the race to sign a nuclear agreement.
In the 2019 Munich Security Conference Zarif refused to answer BBC's questions about Iran's human rights record and the jailing of eight environmentalists for no reason. Instead, he immediately brought up Jamal Khashoggi's killing and Britain's arms sales to Saudi Arabia.
But by then Zarif was bitter about the US decision to pull out of the 2015 nuclear deal and Iran's growing isolation, while for years he had tried to woe the Western media by smiling into the cameras.
Meanwhile, a former official Hamid Abutalebi criticized President Ebrahim Raisi's remarks on Thursday during his meeting with foreign ambassadors on the occasion of the Islamic Republic's 44th anniversary.
Raisi had nothing new to say about Iran's nuclear dispute with the West, Abutalebi noted, simply repeating the same punchlines that would not impress anyone.
Iran is ready for a "just" agreement and always shows good will to achieve it, Raisi said. The United States, and lately its European allies, are immersed in "delusions and miscalculations," Raisi added.
What the diplomats who were present read in these remarks, Abutalebi argued, was that Iran is not ready to finalize the nuclear negotiations and secure the lifting of sanctions. "A good agreement for Tehran is insisting on its old demands," he quipped.