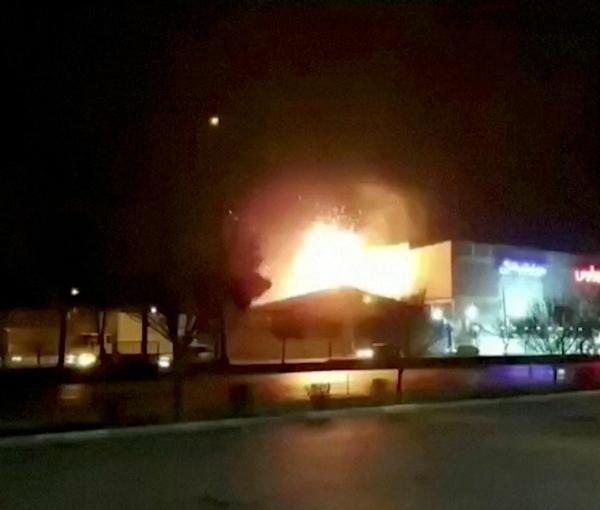 Iran Accuses Israel Of Latest Drone Attack, Vows Revenge
Iran has blamed Israel for a drone attack on a military factory in the central city of Esfahan, vowing revenge for the latest episode in a long-running covert war.
The attack on midnight, January 28 was filmed by the city's residents showing explosions at a weapons development facility that is said to be involved in missile technology and munitions production.
The drone strike was yet another episode exposing Iran's weaknesses in a covert war with Israel and a public embarrassment for its military and intelligence apparatus that have not been able to protect vital targets hundreds of kilometers inside Iran.
The attack came amid tension between Iran and the West over Tehran's nuclear activity and its supply of arms - including long-range "suicide drones" - for Russia's war in Ukraine, as well as months of antigovernment demonstrations at home.
In a letter to the UN chief, Iran's UN envoy, Amir Saeid Iravani, said "primary investigation suggested Israel was responsible" for Saturday night's attack, which Tehran had said caused no casualties or serious damage.
"Iran reserves its legitimate and inherent right to defend its national security and firmly respond to any threat or wrongdoing of the Zionist regime (Israel) wherever and whenever it deems necessary," Iravani said in the letter.
"This action undertaken by the Zionist regime (Israel) goes against international law."
Arch-foe Israel has long said it is willing to strike Iranian targets if diplomacy fails to curb Tehran's nuclear or missile programs but does not comment on specific incidents.
Many see the latest attack as a warning by Israel after years of threats that it will not tolerate a nuclear Iran.
Talks between Iran and world powers to revive a 2015 nuclear deal have stalled since September. The negotiations initiated by the Biden Administration in April 2021 lasted 18 months and failed to produce an agreement. In the meantime, Iran enriched enough uranium for up to four nuclear bombs and sharply reduced monitoring access for the UN nuclear watchdog, the IAEA.
Iran has accused Israel in the past of planning attacks using agents inside Iranian territory.
On Wednesday a semi-official website said "equipment" used in the drone attack on the Ministry of Defense complex was procured by Kurdish groups based in Iraqi Kurdistan region.
Nour News Agency, affiliated with the Iranian Supreme National Security Council (SNSC), claimed that parts of a micro aerial vehicle and explosive materials were ordered by a foreign intelligence service and smuggled into Iran from the Kurdistan region through difficult mountain passes and were handed to an intermediary in a border city in the northwestern part of the country.
The report added that the drone parts and explosives were then assembled at a modern workshop by a group of specialists and were used in the attack.
In July, Tehran claimed it had arrested a sabotage team of Kurdish militants working for Israel who planned to blow up a "sensitive" defense industry center in Esfahan.
Iran has become more isolated in the world after the break in nuclear talks and international reaction to its deadly crackdown on popular protests. The supply of drones to Russia has also soured already weak relations with Europe.
Several nuclear sites are located in Isfahan province, including Natanz, the centerpiece of Iran's uranium enrichment program, which Iran accuses Israel of sabotaging in 2020 and 2021. There have been a number of explosions and fires around Iranian military, nuclear and industrial sites since July 2020.