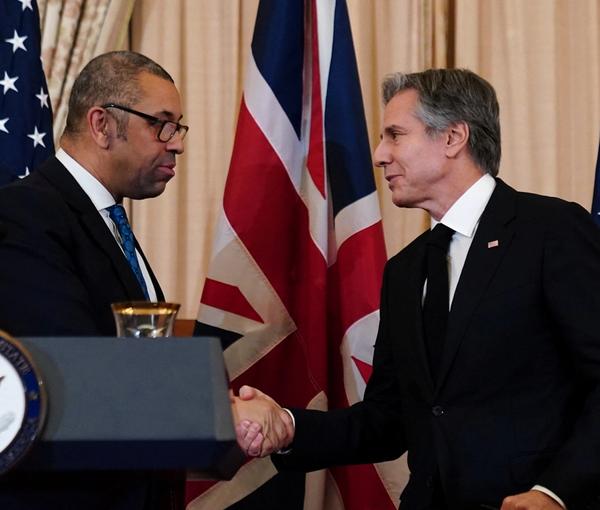 US, UK Vow Tehran's Violence Will Not Go 'Unpunished'
The United States is appalled by Iran's execution of Alireza Akbari, Secretary of State Antony Blinken said at a joint news conference with his British counterpart.
He also vowed that Islamic Republic's deadly violations of rights in its crackdown of widespread protests will not go unpunished.
Blinken and UK Foreign Secretary James Cleverly also voiced support for the Iranian people.
"We'll keep standing with the brave Iranians who are standing up for their own basic rights led by young women – all of this in the face of extraordinary repression," he said as the protest movement entered its fifth month.
"We were appalled by the execution of Mr. Akbari just as we've been appalled by everything we've been seeing on the streets of Iran over the last months since these protests began: mass arrests, sham trials, the executions, the use of sexual violence as a tool for protests' suppression," Blinken said at the news conference.
"These abuses will not go without consequence. Together with many other countries, we've been moving forward with a variety of unilateral actions, multilateral measures, using UN mechanisms, to try to hold Iran to account," he added.
Akbari, 61, a British-Iranian national who once served as Tehran's deputy defence minister, was handed a death sentence on charges of spying for Britain.
Alireza Akbari a former defense official executed by Iran
London has said the charges against him were politically motivated. It repeatedly called for his release. Following the execution, it imposed sanctions on Iran's Prosecutor General.
Cleverly thanked the United States for its support. "I'm very grateful to the United States of America for publicly condemning the execution and for Secretary Blinken expressing his condolences in our meeting a few moments ago," the foreign secretary said.
What was also notable, was Cleverly's emphasis on Iran's activities outside its borders in regional countries and its supply of kamikaze drones to Russia used against Ukrainian civilian infrastructure.
"For years, Iran's leadership have inflicted bloodshed on their regional neighbors by arming and supporting military extremists and militias. Now Iran has gone further and supplied Russian with the drones that were used to kill civilians in Ukraine. And the UK will join with the US and other allies to hold the Iranian regime to account for the violations of the rights of their own people and by making themselves accomplices to Putin's assault on Ukraine," British foreign minister said.
As nuclear talks between the Islamic Republic and the West have reached a deadlock, both Tehran's crackdown on people and its foreign policy have become major stumbling blocks to resuming negotiations. Cleverly's mention of these factors shows that the West will insist on a major change of behavior by Tehran for any renewed diplomacy.
Cleverly made this point very clear: They call – they call for us, for the US, for us, and our friends to lift sanctions. And the point that we have made is that if they want to see those sanctions removed, they have to fundamentally change their behavior.
At the same time he left the door open for dialogue with Tehran. "But we will continue to speak to Iran where we're able to and we hope that at some point soon they will listen properly to what we're saying…"
Blinken in turn repeated Washington's position that it was Tehran's fault the nuclear talks came to a halt and the US is now focused on what is happening inside the country and not on the nuclear issue. He also emphasized President Joe Biden's position, "that Iran never acquire a nuclear weapon."