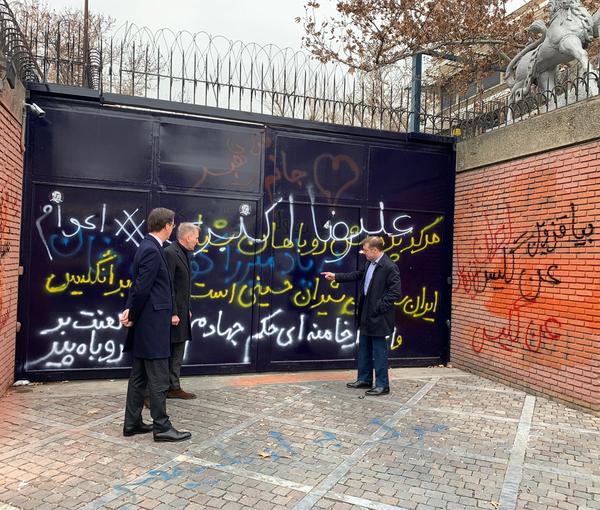 British, French, German Envoys Inspect Graffiti On Tehran Embassy Walls
Three European ambassadors in Tehran appeared together in solidarity outside their embassies where Iranian regime elements have written anti-West slogans.
Simon Shercliff, the British ambassador to Tehran, published pictures, which he took together with his French and German colleagues Nicolas Roche and Hans-Udo Muzel, on Twitter Sunday.
The three European powers and Iran have been at loggerheads in recent months due to several issues, including stalled nuclear talks, deadly suppression of protests in Iran, and the execution of four protesters, as well as Iran's supply of kamikaze drones to Russia.
The latest was the execution of Alireza Akbari, a former Iranian defense ministry official and an Iranian-British citizen, who was accused of spying for MI6.
Iranian officials have been attacking Europe for criticizing Tehran's human rights violations and accusing them of interference in their internal affairs.
In response, Britain temporarily recalled its ambassador for consultation and sanctioned Iran's Attorney General Mohammad Javad Montazeri. France and Germany, along with Britain, strongly condemned the move by the Iranian regime.
In mid-December, a group of Iranians in the capital Tehran voluntarily helped paint the walls of the British embassy vandalized with anti-UK slogans.
The slogans had been seemingly sprayed by some pro-regime elements to protest UK's support for anti-government protesters in Iran.
Shercliff in a tweet thanked Iranians and international friends from Germany, South Korea, France, Italy, Brazil, and some other countries who sympathized with the UK.