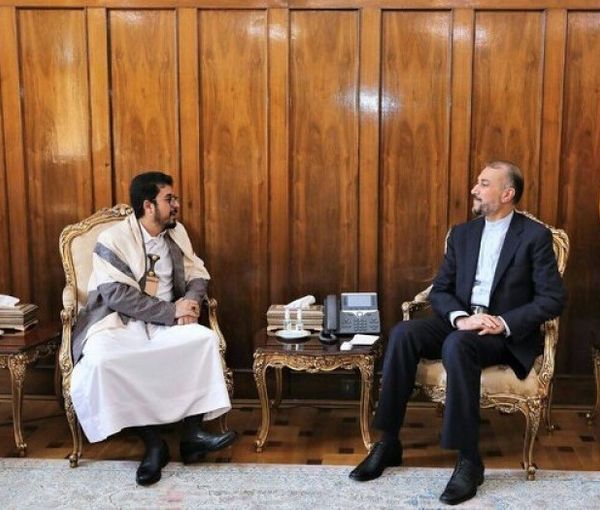 Critics Lash Out At Iran's Ideological Foreign Policy
An ultraconservative supporter of Iran's President Ebrahim Raisi has criticized his foreign policy for lack of agility, as the country faces more isolation.
Former lawmaker Hossein Naghavi-Hosseini added in an interview with Nameh News website in Tehran that Iran's foreign policy is passive and lacks dynamism. He stressed that the foreign ministry is absent in the Persian Gulf area. "There are many potentials for cooperation in this region, but the Iranian foreign ministry lacks the agility and dynamism to get positively involved in the region."
There are key reasons why Tehran suffers from a sense of isolation. Long negotiations with the West to revive the 2015 nuclear deal known as the JCPOA were suspended in September as Iran presented demands, which Washington rejected. This was followed by Tehran's brutal suppression of protests and evidence that it was supplying kamikaze drones to Russia used against Ukraine. The West, and especially Europe, have reacted with disdain and adopted new sanctions against Tehran.
At the same time, Iran's financial situation has deteriorated after years of US sanctions and its currency has dropped to unprecedented lows. All these have led to a mood of pessimism among regime insiders, and no prospect of a quick remedy.
Naghavi-Hosseini said in the interview that the ongoing protests in Iran have adversely affected the West's willingness to continue nuclear negotiations with Iran as social media activists portrayed Iran's situation in a way that the Islamic Republic is on the verge of collapse and the West should wait for the establishment of a new regime before resuming the talks.
Nevertheless, he claimed that "although Westerners are currently not keen to continue the talks, in fact, they need the JCPOA, and they have to come to terms with Iran in the long run."
Iranian conservative politician, Hossein Naghavi-Hosseini
According to Nameh News, Raisi who came to power with promises of reviving the JCPOA, advancing the economy despite sanctions, implementing closer ties with China and Russia, and improving Iran's relations with its neighbors, has accomplished none of these in 18 months.
The Western parties in the JCPOA, the United States, United Kingdom, France and Germany say reviving the nuclear deal is not their focus now, meaning that US sanctions will continue.
China's President Xi Jinping signed a statement during a recent visit to Saudi Arabia, supporting Arab claims to three islands in the Persian Gulf, putting in doubt Tehran's 25-year cooperation contract with Beijing, and most recently Iraqi officials have been using the term Arabian Gulf rather than Persian Gulf to undermine Iran's long-standing characterization of the waterway.
In another development, international relations expert Mehdi Motaharnia told Rouydad24 website that the Iranian government is duty-bound to continue its "revolutionary" rhetoric and cannot make an agreement with America."
He said although Iranian and US officials use the same words such as "mutual respect, obligations, and commitments," when talking about the JCPOA, what they mean by these words are different. At the same time, both of them accuse each other of "government-sponsored terrorism."
"While the United States' rhetoric is based on liberal democracy and capitalism, the Islamic Republic of Iran's rhetoric is based on the ideology of Shiite Islam," Motaharnia said. At times both of them talk about returning to the JCPOA, but what they mean are two different things. This difference existed since 2015 when the nuclear deal was made.
"In other words, the United States is aware that the Islamic Republic will never give up the ideological aspect of its foreign policy," Motaharnia added.
Naghavi-Hosseini added that at the same "Iran is seriously following an approach to strengthen its ties with China and Russia, despite some hiccups.