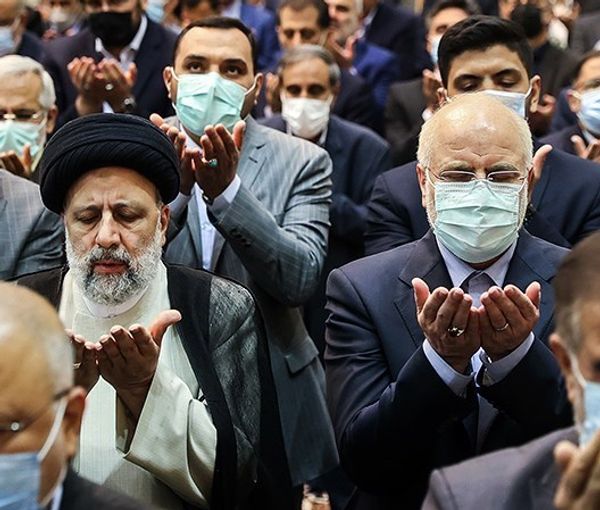 Iran's Regime Must Choose Between 'Survival And Oligarchies'
Iranian economist Hossein Raghfar says the country's economic crisis cannot be resolved before security organizations put an end to their business activities.
It is time for the Iranian government to decide which one is important for it: The regime's survival or protecting the oligarchy of its rich insiders, Raghfar said in an interview with Rouydad24 website.
He noted that President Ebrahim Raisi promised to control inflation and prevent the devaluation of the national currency, but during the past eight months the US dollar has risen by another 110,000 points reaching 380,000 rials. This shows to what extent Iranians' purchasing power has declined.
Speaking on the current situation and accelerated price increases, Raghfar reiterated that the main reason for instability in the market is the presence of powerful insiders and institutions who have been pocketing hefty sums as consumer prices rise.
Other economists, some politicians and opponents of the Islamic Republic have been saying that the Revolutionary Guard (IRGC) and the financial holdings operating under the aegis of Supreme Leader Ali Khamenei's office are the main players in Iran's economy, adding that they have chased the private sector out of Iran's economy.
Raghfar speaking in Tehran as someone who is not a regime opponent argued that this situation benefits those who want to overthrow the Islamic Republic.
Hossein Raghfar, economist and commentator in Tehran
He added that if the government fails to control inflation, it should expect an a larger uprising by the poor in addition to the current unrest. The combination, he said will lead to destructive consequences no one is able to control. He pointed out that the government does not give any indication to the people that their economic problems are important for the officials.
"If the government takes this challenge seriously, it should know that there is no way out of this crisis other than pushing [oligarchies] out of the country's economy," Raghfar said.
Raghfar also accused the government of a direct role in runaway inflation. "The main player…is the government itself as it takes measures to cope with its budget deficit."
All economists and politicians agree that in the past five years the state has vastly increased liquidity by resorting to printing too much money.
He suggested that the government should instead reduce its expenses and try to increase tax revenues by taxing the oligarchic companies that currently enjoy exempt status.
Majid Tafreshi in Tehran, historian and political analyst
Speaking almost along the same lines, historian Majid Tafreshi told moderate conservative Khabar Online website that the ongoing crisis in Iran is partly due to the elimination of moderates from the Iranian political scene. He added that even some children of prominent officials have joined those who are unhappy with the government's performance. This comes, he added, while some officials appear to benefit from turning Iran into another North Korea.
Nonetheless, Tafreshi says it is still not too late for a dialogue between the protesters and the government.
However, not only many Friday prayer Imams have called for harsher measures against protesters, but some non-clerical figures have also been beating on the drums of more executions to silence opposition.
While many Iranians have been complaining about summary trials that have so far led to the execution of two young men in their early 20s in less than one week, conservative Lawmaker Mostafa Mirsalim has said on Wednesday that the courts should issue and implement death sentences faster - in 5 to 10 days. Some say the man who is known for his outlandish remarks and is better known in Iran as the member of parliament from Mars is appeasing the hardliner Judiciary because his own son is in jail for being a member of an outlawed opposition group - a situation that usually entails death sentence. But Mirsalim's son has just returned to jail after several months of furlough that was exposed on social media.