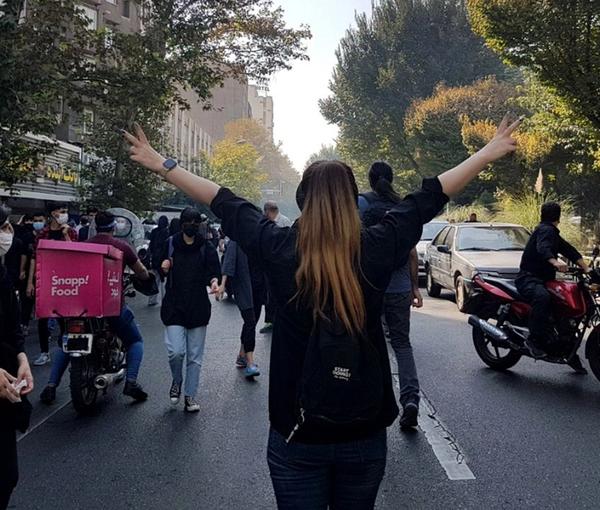 Iranians Hold Rallies In Honor Of Executed Protester
Protests in Iran continued Saturday night with silent rallies against the execution of a protester but they turned ugly after security forces attacked people in the streets.
Many Iranians enraged by the execution of 23-year-old Mohsen Shekari held protests in many cities, starting their rallies in silence but broke into chanting slogans after security forces attacked the crowds. 
People in several neighborhoods of the capital Tehran, such as Narmak, Naziabad and Sattarkhan, held rallies and chanted slogans against the regime and the crackdown on protesters. People also chanted slogans in support of Mohsen Shekari, who has become a new codename for protests after Mahsa Amini, the 22-year-old woman whose death ignited the current round of antigovernment protests. 
People in several Iranian cities, including Qazvin, Tabriz, Karaj, Roudsar, and Esfahan also held rallies and candlelight vigil for in honor of Shekari. People chanted slogans against his execution, and in support of other protesters who are sentenced to death. 
University students on many campuses also held demonstrations in honor of the executed protester, and security forces attacked the gatherings to disperse them. The university of Sanandaj was the scene of clashes between security forces and students. 
People from the Iranian diaspora communities also held protests in condemnation of Shekari's execution in many countries, including Sweden, Germany, Netherlands, Britain, Hungary, Denmark, Japan, Australia, Italy, Turkey, and Belgium.
Iranians in Washington DC also held a gathering in solidarity with protesters in Iran and against the Islamic Republic.
US Republican Senator from Idaho Jim Risch said, "Recent peaceful protests in Iran show the strength of Iranian people in their demands for basic rights like speech, press, religion, assembly and more. The regime's brutal crackdowns reinforce its status as a pariah state as Iranian people demand change."
Iran's exiled queen Farah Pahlavi and prince Reza Pahlavi have also expressed sorrow over the execution of Iranian protester Mohsen Shekari asking the people to preserve their unity. "On this Human Rights Day, Iranians seek further international solidarity in support of efforts to save all prisoners of conscience in Iran and secure their immediate and unconditional release," Reza Pahlavi said.