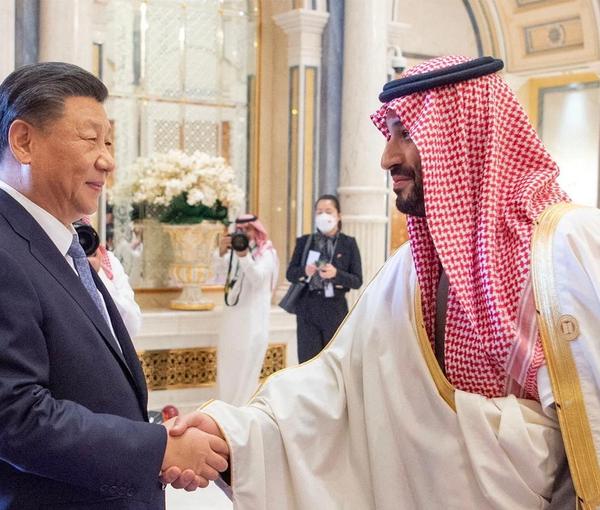 Xi Visit Brings Saudi-China 'Partnership' And 'Cooperation' Over Iran
China's foreign ministry this week called President Xi Jinping's Riyadh visit the "largest-scale" diplomacy between the People's Republic and the Arab world.
A 4,000-word joint statement from Saudi Arabia and China Friday, published by the official Saudi Press Agency (SPA), expressed common approaches on security, oil, and Iran's nuclear program as well as a shared commitment to non-interference in countries' internal affairs.
The statement said talks had discussed a "comprehensive partnership" and "continuing joint action in all fields" to set an "example of cooperation, solidarity and mutual gain for developing countries."
The two sides agreed "on the need to strengthen cooperation to ensure the peaceful nature of Iran's nuclear program," calling on Tehran to cooperate with the International Atomic Energy Agency (IAEA) and to "maintain the non-proliferation regime."
Speaking about Iran, they also emphasized "respect for the principles of good- neighborliness and non-interference in the internal affairs of states," a clear win for Riyadh, while Iran regards China a close ally.
The statement's section on Iran exemplified Beijing and Riyadh taking a transactional approach in finding common areas. While China has taken part with other world powers since March 2021 in talks to revive the 2015 Iran nuclear agreement, the JCPOA (Joint Comprehensive Plan of Action), Saudi Arabia has been skeptical of the agreement and wary of Iran's regional links, including to Yemen's Ansar Allah, or the Houthis.
Saudi Crown Prince Mohammed Bin Salman stands with Chinese President Xi Jinping in Riyadh, Saudi Arabia December 8, 2022.
Washington has reacted warily to Xi's three-day visit, on which he was received far more lavishly than was President Joe Biden in July. While some Arab lobbyists have insisted Gulf-US relations are as close as ever, Gulf officials have suggested US policy is incoherent, and rife with double standards.
The joint Saudi-China statement expressed support for an independent Palestinian state on the terms of the 2002 Arab Peace Initiative, effectively rejecting the US-sponsored 'normalization' with the Israeli state undertaken since 2020 by the United Arab Emirates, Bahrain, Sudan and Morocco.
Still perturbed by the Saudi-Russia October agreement through Opec+ to cut global oil production, many US analysts are clearly uncomfortable. In the Washington Post Friday, columnist Henry Olsen argued the US needed to "emphasize our material security interests over our moral interests" in order to combat "China's rising influence…throughout the Middle East."
'Usurp the US influence'
Olsen suggested Beijing could "usurp the United States' influence…[and] could coerce the region's kingdoms and dictatorships to use their production of fossil fuels against the West." Sure enough, the joint Saudi-Chinese statement noted the "great foundations of the cooperation due to the Kingdom's ample oil resources and China's broad markets." It also stressed the importance of stability in world oil markets, reflecting language used by Saudi officials to justify the Opec+ decision in October.
But the statement stressed the further opportunities that could be opened up through aligning Beijing's Belt and Road Initiative with Saudi Arabi's Vision 2030. Bilateral trade reached $87 billion in 2021 and China is keen to extend infrastructure investment, including in Saudi Arabia's $500-billion NEOM city in the north west.
The US is concerned not just at Saudi-China ties, and at talk of the two reducing the use of the dollar in bilateral trade, but at the growing links between Beijing and the Gulf Cooperation Council (GCC). During his three days in Riyadh, Xi attended the inaugural China-GCC summit and, separately, the first Arab-Chinese summit, which involved the 22 members of the League of Arab states, including the President of the Palestinian National Authority. A plethora of bilateral meetings took place on the side-lines of both.
Twenty Arab counties have cooperation agreements under China's Belt and Road initiative. Last year 51 percent of China's oil imports came from Arab states, four-fifths of these from the GCC, while it has this year continued to buy 500,000-1 million barrels of oil a day from Iran despite the US threatening to penalize Chinese buyers under its 'maximum pressure' sanctions. In November China's state-owned Sinopec signed a 27-year agreement to buy liquefied natural gas from Qatar.
In strengthening links in defense and security, the UAE has bought Chinese battlefield drones. Saudi agreed in March to manufacture Chinese drones domestically, while Riyadh, which already has Chinese ballistic missiles, is reportedly also enlisting Beijing's help in developing a domestic ballistic missile program.