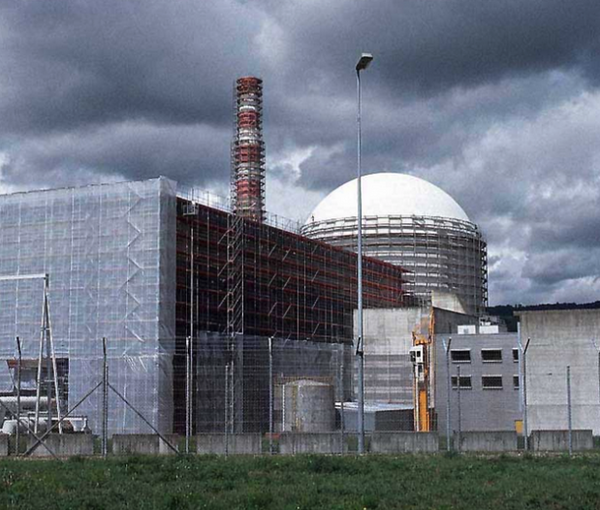 Iran Plans To Build Small, Indigenous Nuclear Plant
A construction ceremony took place Saturday for the long-promised Darkhovin nuclear power plant, around 70km south of Ahvaz, provincial capital of Khuzestan.
Mohammad Eslami, head of the Atomic Energy Agency of Iran (AEOI) and a vice-president, told journalists the project, known also as the 'Kanun' plant due to its proximity to the river, was "important and necessary" for the south west of Iran. He said work was beginning with preparing the site for construction of a 300-megawatt (MW) plant.
Plans for Darkhovin go back to days before the 1979 Revolution, when Shah Reza Pahlavi agreed with France the construction of two 910-MW reactors on the site. In 1992 then president Akbar Hashemi Rafsanjani on a visit to Beijing agreed a plan with China, against United States objections, to sell two 300-MW reactors for Darkhovin, but the Chinese subsequently withdrew, apparently due to continuing pressure from Washington.
Iran did sign up Zurich-based ABB as a consultant, but the Swiss-Swedish robotics and power multinational withdrew more than once before finally quitting in 2018 as the US introduced 'maximum pressure' sanctions threatening punitive action against any entity having banking dealings with Iran.
Eslami, making an oblique reference to the apparent failings of "foreigners," said Saturday Iran would itself construct the $2-billion plant, using a pressurized water reactor (PWR), over eight years on 59 hectares, as part of a wider plan to build "local" plants to power Iran's industries.
It is not clear if Iran has the technology to independently complete a nuclear reactor. It took Russia decades to finish the Bushehr reactor and Iran was completely dependent on Moscow.
The location of the planned nuclear plant in southeastern Iran
The $2 billion price tag might also be too high and not make sense in comparison to building green renewable sources. For example, Saudi Arabia's ambitious green energy projects are expected to cost a total of $10 billion with both solar and wind power by 2026 that can provide 50 percent of its electricity needs.
The 300 megawatt that the $2 billion project promises to provide is a tiny contribution to Iran's ever-increasing consumption of nearly 70,000 megawatts.
The reactor itself has been billed as the country's first one to be indigenously designed and built. In line with the stress on 'self-reliance' beloved of the Supreme Leader Ali Khamenei, the AEOI chief stressed the role of Iranian companies in manufacturing the plant's equipment, including cooling pumps.
Russia has long been in talks with Tehran over new units for Iran's sole nuclear power station at Bushehr, southern Iran, which began operating in 2011 but has had a checkered performance, producing only 1.25 percent of the country's electricity in 2021-22. Iran's stated aim is to produce 10,000 MW of electricity from atomic plants, which if attained would be around a third of the current output today from nuclear power in Japan and roughly equivalent to that of the United Kingdom.
While PWRs are the most common nuclear power plants across the world, any atomic work by Iran is deemed suspicious by the United States, which has twice this year sponsored resolutions critical of Iran at the governing board of the International Atomic Energy Agency (IAEA), the United Nations agency tasked with verifying the peaceful nature of nuclear programs.