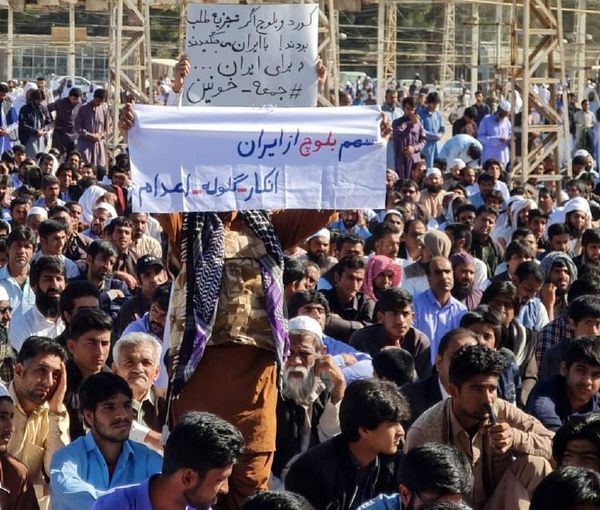 Backed By People, Iran Sunni Leader Warns Against Death Sentences
People turned out in large numbers in Iran's Sunni city of Zahedan Friday to show support for their religious leader Mowlavi Abdolhamid who has been defying the regime.
Residents of several cities Sistan-Baluchistan Province, including its capital Zahedan, held demonstrations after Friday prayers as they have done since unrest began in mid-September in Iran. The protesters are especially enraged over a recently leaked document that revealed Supreme Leader Ali Khamenei has ordered his officials to defame Abdolhamid, the most prominent religious leader of Iran's largely Sunni Baluch population living in the province. 
Earlier this week the hacktivist group Black Reward breached the data servers of Fars news agency, affiliated with the Islamic Republic's Revolutionary Guard, and released several documents indicating that Khamenei is dismayed by Abdolhamid's remarks, who has been critical of Iran's autocrat for the indiscriminate crackdown on protests in the province and elsewhere.
Relations between Abdolhamid and the government became tense after security forces opened fire on demonstrators in Zahedan September 30, killing more than 80 people.
In addition to Zahedan on Friday, protesters in Chabahar, Khash, Iranshahr, and Zahak, chanted slogans such as "Sheikh-ul-Islam (Abdolahamid) is with God, Khamenei is disgraced," "Salute to Mowlavi, Death to Khamenei," and "With Hijab or without hijab, moving towards revolution."
According to videos posted on social media, security forces clashed with protesters in Zahedan and used teargas to disperse the gathering. 
During his Friday prayer sermon earlier in the day, Abdolhamid decried the torture of detained protesters and warned the Islamic Republic against issuing verdicts that call protesters mohareb (muharib), which means warrior in Arabic. In Iran's Islamic law the term means 'enemy of God' which carries the death penalty. 
"A prisoner is a captive. Beating, insulting, cursing and assaulting him is against the teachings of Imam Ali (the first Shiite imam), Ahl al-Bayt (the family of Islam's Prophet Muhammad), Hazrat Rasool (Prophet Muhammad) and Islam. The dissidents and critics should be treated in an Islamic manner," he emphasized. 
Protests in the city of Zahedan on December 2, 2022
Abdolhamid went on to say that the nation has endured problems for 44 years, now they are protesting, insisting that their protests should not be a pretext to execute them. He said that their demands are legitimate, adding, "We want our country to be safe and united. We don't have Shiites, Sunnis or ethnic groups here. We are all Iranians. From Zoroastrians and Dervishes to Baha'is. They are also human and Iranian, and their rights should be respected…If an American or an Israeli speaks the truth, it is still the truth," he said. 
Dervishes of the Gonabadi order are among religious groups seen as potential security threats in Iran, and are regularly persecuted by the regime. Baha'is, who number around 300,000 in Iran, also say their rights are systematically violated and they are often harassed, forced to leave their homes and businesses, and are deprived of government jobs and university education. Khamenei has on several occasions called the Baha'i faith a cult and in a religious fatwa in 2018 forbade contact, including business dealings, with followers of the faith.
Referring to the recent leak and the regime's efforts to tarnish his image, Abdolhamid said "If the reign and power are in your hands, it was God's will. If we have respect and love of people, it is also a God's gift. What God gives, only He can take back. God gives honor and takes it away. No one else can take someone's honor."
Abdolhamid's popularity is largely because of his willingness to challenge Khamenei's absolute power. Earlier in November, the outspoken Sunni Imam said women, ethnic and religious groups have faced discrimination after the establishment of the Islamic Republic in 1979.