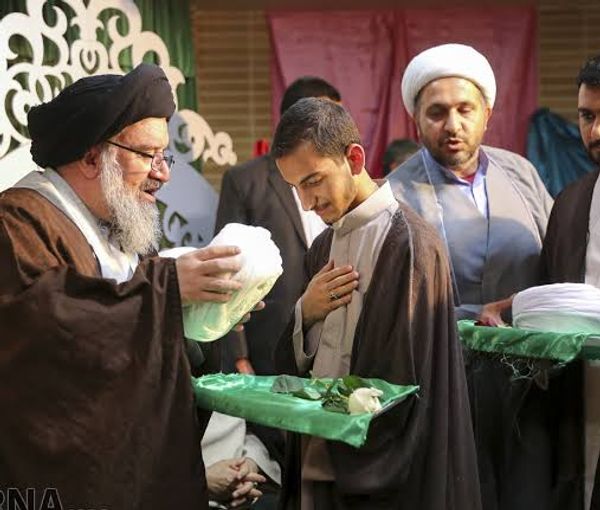 Iran's Privileged Clerics Scared Of Ongoing Public Backlash
Mohammad Reza Moballeghi, an Iranian lawmaker, says some clerics no longer wear their robe and turban in public fearing disrespectful acts by random individuals.
Clerics in Iran are among the most privileged groups in society and benefit from many financial and other advantages although a majority of them have minimal educational and almost no work expertise. Among other things, they are exempted from the compulsory two-year military service and unlike other students who have to pay hefty tuition fees, clerical students in Iran get paid for studying in seminaries.
As Iran's biggest protests against the Islamic Republic and clerical rule has been raging on for more than 70 days, turban-tossing has become increasingly a way of taking on the clerics who are blamed for economic failures of the theocratic government and violations of human rights in Iran.
Turban-tossing has turned to s port for young people who approach a cleric in the street and fling the turban off his head. Influential clerics with links to the government rarely walk in the streets and are usually escorted by bodyguards.
Moballeghi, himself a cleric, speaking in parliament Monday said that "During the past two months the people's attitude toward clerics has changed for worse as there is a lot of propaganda against clerics."
Iranian lawmaker Mohammad Reza Moballeghi
Fearing disrespect by the "new revolutionaries" in Iran, according to Moballeghi, many clerics prefer to appear in public in normal, secular outfit. Meanwhile, Moballegi claimed that the robe and turban that Iranian clerics put on follows the model of the outfit worn by Prophet Mohammad. Others, including some clerics say that the prophet dressed like everybody else. At the time everyone was wearing a robe.
Earlier, another cleric in parliament, Mohammad Taghi Naghdali warned that those who toss turbans "are playing with the lion's tail and they should know that they will be punished for that." Earlier, Judiciary Chief Gholamhossein Mohseni Ejei had warned them that their "rude behavior will not remain unpunished."
He was right, as the government-owned newspaper Iran reported on Monday that at least two young men have been arrested in Tehran and Babol for turban tossing. Some videos on social media show young women also tossing turbans in the streets before running away.
Opposition to Shiite clerics has been a characteristic of what is now called the" new Iranian revolution." One of the main slogans heard in Iranian cities these days is "Mullahs should get lost."
As a result of many years of discrimination by the clerical government, Iranians have been taking on the clerics during recent protests. In a couple of cities including Qom, protesters have set fire to seminaries.
While many young Iranians are unemployed because of the country's chronic economic crisis, almost every Iranian cleric has some sort of a job at various ministries such as education, justice or Culture and Islamic Guidance. Many other government offices and military organizations in Iran have "ideological departments" led and run by clerics who know nothing about how those organizations operate.
During the protests in the past two months very few Iranian clerics have shown any sympathy with the protesters. On the contrary, many, particularly those at the parliament, or Friday Prayer Imams have called for severely punishing protesters.