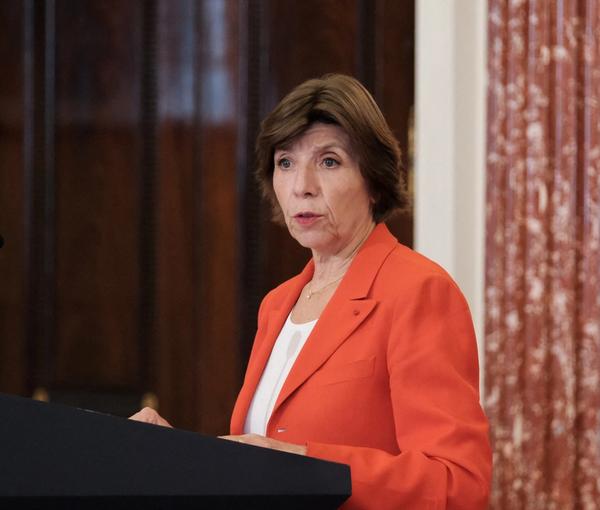 Iran Arrests Two More French Citizens As West Increases Pressure
Paris says the number of French nationals detained by the Islamic Republic of Iran has reached seven with the arrest of two more citizens.
French Foreign Minister Catherine Colonna said on Saturday that Paris is concerned over the incarceration of two other citizens urging Tehran to immediately release them and provide them with consular protection.
Colonna made the comments in an interview with Le Parisien newspaper about the new development, which would seemingly bring about a further deterioration in mutual relations.
She reminded the Islamic Republic of its international obligations warning the if the goal behind the detention is to blackmail France, "then it cannot work."
Human rights organizations accuse Iran of a systematic policy of hostage taking over four decades from the earliest period of the Islamic republic after the ouster of the Shah, starting with the 1979-1981 siege at the US embassy in Tehran.
Tehran denies any policy of hostage taking and insists all foreigners are arrested and tried according to legal process. However, it has frequently shown readiness for prisoner exchanges and participated in swaps in the past.
Most trials of political cases, including detained Western detainees are without due process of law and based on trumped up charges.
In her interview, Colonna however noted that her Iranian counterpart Hossein Amir-Abdollahian "has committed to respect the prisoners' right of access."
Her comments come a day after French President Emmanuel Macron expressed solidarity with Iranian freedom-seeking protesters calling their movement a "revolution".
President Emmanuel Macron of France meeting an Masih Alinejad, an Iranian activist on Nov. 11, 2022
In early October, France accused the Iranian regime of "dictatorial practices" after Iran's state TV aired the forced confessions of two French nationals arrested in the Middle Eastern country ruled by its 83-year-old anti-West ruler, Ali Khamenei.
In the video of the forced confessions, one of the two French nationals - Cecile Kohler - said they were in Iran to "prepare the ground for the revolution and the overthrow of the regime of Islamic Iran."
Iran's state media are infamous for purported confessions by prisoners in politically charged cases. Such prisoners are held without due process of law and usually cannot choose their own defense attorney.
On Friday, Le Figaro newspaper reported that the two nationals had been arrested prior to the start of anti-government protests in September over the death of 22-year-old Mahsa Amini.
Ties between France and Iran have soured recently as efforts to revive 2015 nuclear talks in which Paris is one of the parties have come to a standstill.
Following the uprising against their authoritarian government after killing of Amini in police custody, the EU imposed new sanctions on Iran following similar measures by the United States, Canada and Britain.
A new round of European Union sanctions for human rights violations by Tehran will also be approved at a foreign ministers' meeting on Monday, two diplomats told Reuters.
The sanctions are set to target 31 individuals and entities and would freeze their assets and imposing travel bans.
"France has also proposed new designations for those who would sell drones to Iran and to sanction people involved in the export of electronic components for drones," one of the diplomats said.
The identity of the two new French detainees was not immediately clear, but Cecile Kohler and Jacques Paris, whose confessions earlier aired on the Iranian TV, have been arbitrarily detained since May 2022.
Fariba Adelkhah, is another Iranian-born woman, who was arrested in 2019 and sentenced to five years in prison for "undermining national security." Benjamin Briere was similarly arrested in May 2020 and sentenced to eight years and eight months for espionage, without due process of law.