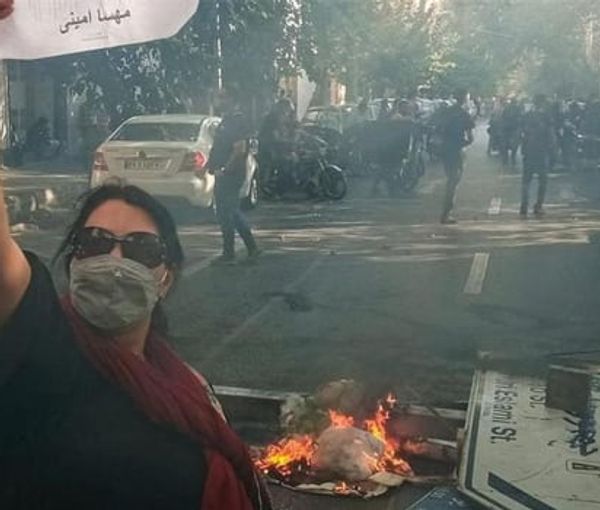 Assault On Schoogirls Sparks Neighborhood Protest In Tehran
People in a Tehran district took to the street and clashed with security forces after two schoolgirls were reportedly assaulted by the principal of a school Monday.
Social media users say one of the girls was shoved against the wall by one of the staff at the school at Karoun Street in southwestern Tehran when she and her classmates protested to humiliating body searches for mobile phones and the other was injured at a later stage when security forces were called in by the school to stop the students' protest and chanting.
Reports say the principal had forced the girls to strip down to their underwear to search for their cell phones and the children tried to resist the body search and started chanting against her.
An ambulance arrived later and took both girls to Loghman Hospital nearby. These reports also claim that one of the girl injured by the principal had a seizure and is in hospital in critical condition.
Security forces use tear gas against people near the girls' school
People gathered outside the school and chanted after parents were informed by children and rushed to the school to collect them. Neighborhood shops shut down and trash bins were set on fire on the street by chanting locals. According to some social media reports a number of the children were still trapped inside the school hours after the incident.
An official from Education Ministry said a groups of students and parents have "clashed with the school principal due to the principal's insistence on inspecting girls for cellphones."
"No student died in this incident. some students experienced a drop in blood pressure, but the EMS took care of the situation," added this official.
A video on social media shows over a dozen riot police in front of the school beating up some of the angry parents.
Another video shows a group of parents in front of the school while an ambulance is parked outside the courtyard.
Witnesses say on social media that security forces used paintball guns and shotgun birdshots to disperse the protesters.
In another video security forces fired tear gas forcing the shopkeepers to close their stores and stay inside.
Some other reports also suggest that the lights in the streets around the school have been turned off.
According to eyewitnesses, security officers were shooting at the windows of houses and cars in the area.