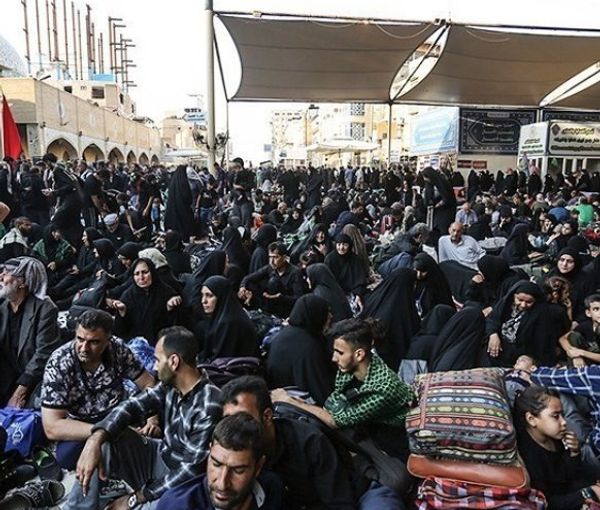 Iraq, Iran Close Borders As Safety Concerns Grow Over Pilgrimage
Iraq and Iran have closed land borders as millions of Iranian pilgrims supported by Tehran were on the move to reach Karbala to mark a Shiite religious event.
The Iranian government's office organizing the Arbaeen pilgrimage said Friday, "Because of worrying incidents at [two border crossings] and serious dangerous incidents occurring for the security and wellbeing of pilgrims" the borders are closed.
Although Iranian authorities say they made the decision, but Iraq already closed border crossings Thursday afternoon because of congestion and high temperatures. Reports from Iraq say that the government has closed also internal roads leading to Krabala, the venue of the gathering, because existing infrastructure reached its full capacity.
The Iranian government has been advertising the pilgrimage with all its official media and religious organizations and offering financial help to potential pilgrims in the past few weeks. As late as Thursday, top Iranian officials, including the interior minister, were re-assuring the public that everything was coordinated with Iraq and the pilgrimage would continue throughout September.
But unexpectedly Iraq closed two major crossing points Thursday evening and Iran announced Friday morning that pilgrims who have made arrangements should change their plans and people with bus tickets can get their money back. It also said no more passports will be issued in person and those who have applied will receive them through the mail.
The pilgrimage is on the occasion of Arbaeen, the 40th day after the death of the third Shiite Imam, Hussain Ibn Ali, who was killed in a power rivalry by the reigning caliph in a clash in Karbala in 680 Ad.
Pilgrims in Iraq marching toward Karbala. Undated
The battle and Hussain's death is the main pillar of Shiite beliefs. The minority sect in the Muslim world believes that Hussain was the rightful successor to the first four Muslim rulers, being Prophet Muhammad's grandson and the son of the fourth caliph Ali.
Iranian officials said Friday that conditions in Iraq were simply not ready for accepting a flood of hundreds of thousands of people that could well turn into millions of pilgrims not only from Iran but also Pakistan and Afghanistan.
However, the Arbaeen March to Iraq's Karbala is a new phenomenon pushed by the Islamic Republic to show the power of Shiites who are a minority in the Muslim world and in West Asia.
Just a decade ago Arbaeen was marked in Iran's religious centers and there was no tradition of a march to Karbala, but the government with its army of religious institutions and networks began to cultivate concept and with financial appropriations turned it into a millions-strong annual gathering.
This year, the government is offering $100 to each pilgrim, plus a loan of $160 to facilitate the march. In addition to that, transportation, food, medical services, free Wi-Fi and other services are offered. In all, it is estimated that Iran will spend at least $500 million this year despite its dire economic circumstances.
Iraq also experienced political upheaval in August between Iran-backed Shiite groups and followers of Muqtada Sadr, an influential Shia cleric opposed to Iran's influence in the country.
In 2019, The New York Times quoted an influencial Iranian media boss, Hossein Sulaimani, as saying, "Arbaeen is a display of power for Iran and a showcase of unity among Shiites in the region."