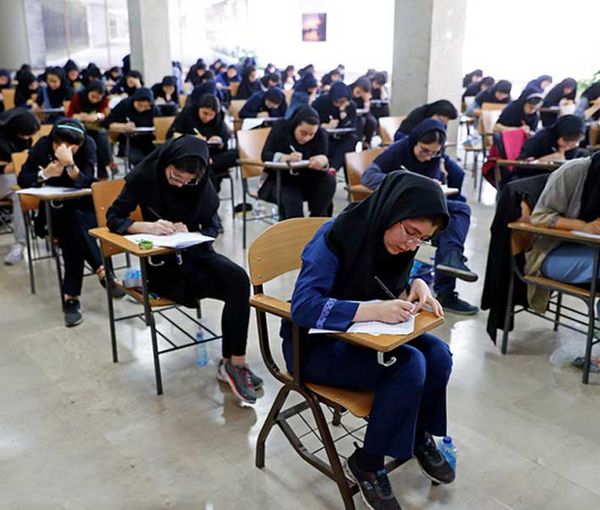 Corruption In National University Entrance Exams Rocks Iran
The head of Iran's Educational Evaluation Organization has denied corruption in holding the standardized university entrance exams, but many remain unconvinced.
Responding to allegations that test questions were leaked and sold for huge amounts of money, Abdolrasoul Purabbas, head of the higher education ministry's evaluation organization (Sazeman-e Sanjesh), swore in a program broadcasted by the state-run television (IRIB) on Saturday that corruption in holding the exams was not true.
Social media users posted images of test booklets half an hour after the exams started to prove that they had leaked out, but Purabbas insisted that nobody could have accessed the test questions. According to him 480 participants who had attempted to use digital equipment to receive the answers to the multiple-choice test questions from outside were arrested.
Around a million young men and women sat for the annual university entrance exams known as Concours from Wednesday to Friday to compete for available places in universities and colleges across the country but some of them, apparently, already had the questions and knew the correct answers.
A Telegram social media channel on Friday published the test questions half an hour after the exam started as proof that they had leaked. Many claim that the questions, and answers, had been sold to those who could afford paying between $10,000-20,000 to get placement in top universities. Those who fail, or are not accepted in their preferred universities, have to wait for another year to take the Concours again.
The figures mentioned in local media are huge sums in Iran where the middle class has become impoversihed due to years of 40-50 percent inflation. The scandal has further tarnished the image of the clerical government, which has already lost a lot of credibility in the eyes of the public.
A student taking a na in the long and tiring university entrance exams
The Concours (from French, meaning competition) which is held only once a year across the country is designed to test a candidate's ability to study in college, with questions based on Iran's high-school curriculum. It is recognized by all Iranian state universities as well as the Islamic Azad University which has branches all over the country.
Allegations of corruption in holding the Concours are not new. This year authorities said they had taken extra measures, including shutting down the Wifi and mobile internet around the exam locations during the several-hour-long exams. Candidates were also searched before the exam and signal detectors were used to ensure they were not using digital equipment such as mobile phones or Bluetooth to cheat.
Several lawmakers have demanded a probe into the recurring issue of leakage and selling of Concours questions and graduate school entrance tests which are also held at a national level.
A member of the parliament's education committee, Mehrdad Veys-Karami, told the Iranian Students News Agency (ISNA) on Saturday that there are organized criminal groups that help candidates to cheat in return for huge sums. It is not clear who leaks the questions and how payment is exchanged.
Veys-Karami urged the authorities to take precautions such as frequent moving of those involved in the process of preparation and distribution of the test questions to prevent any chances of fraud.
The Concours is held in five major groups (mathematics and physics, experimental sciences, humanities, arts, and foreign languages). All participants are also required to sit for tests in Persian literature, Islamic studies and culture, as well as Arabic and English languages.
The supreme cultural revolution council decided last year that from this year the score in the Concours would make up 40 percent of the final score to be admitted to university, with the remaining 60 percent coming from the high school average grade point.