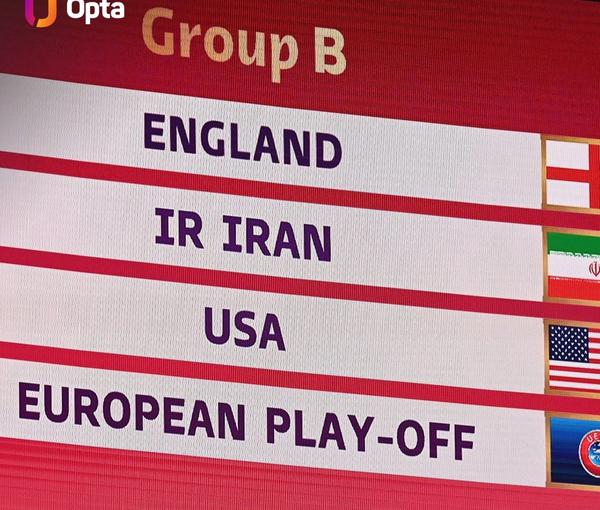 World Cup Draw Puts Iran, US Teams In Same Group
Iranian men's national football (soccer) team has been drawn in Group B of Qatar FIFA World Cup along with the United States and England.
The drawing ceremony was held in Qatar on Friday, while Iran's legendary goal scorer Ali Daei was also in attendance.
The fourth team of the group will be the winner of European playoffs that may be either Ukraine, Scotland or Wales.
The last time Iran and the US played against each other was the 1998 World Cup in France where the Iranian side beat the United States 2-1 with goals by Hamid Estili and Mehdi Mahdavikia.
According to the updated FIFA rankings, Group B is the 'group of death' -- the moniker that is used to describe a World Cup group that looks particularly challenging. Two teams will qualify to move up to the next round of matches.
This comes as FIFA has been urged by many people and organizations from Iran and other countries to ban Iran's national football team from the 2022 World Cup for Iran's recent action forcibly barring women from entering the stadium to watch a qualifying match.
A campaign on social media has seen hashtags such as #Fifabaniri (FIFA ban Islamic Republic of Iran) and others rising to the top of most-used hashtags in Persian-language Twitter.
On Tuesday, security forces denied women entry into a stadium in Mashhad, north-east Iran, to watch a FIFA World Cup qualifier between Iran and Lebanon, using pepper spray to disperse them.
A campaign inside Iran sees some former and current members of Iran's national team pledging not to enter stadiums as long as women are not allowed.