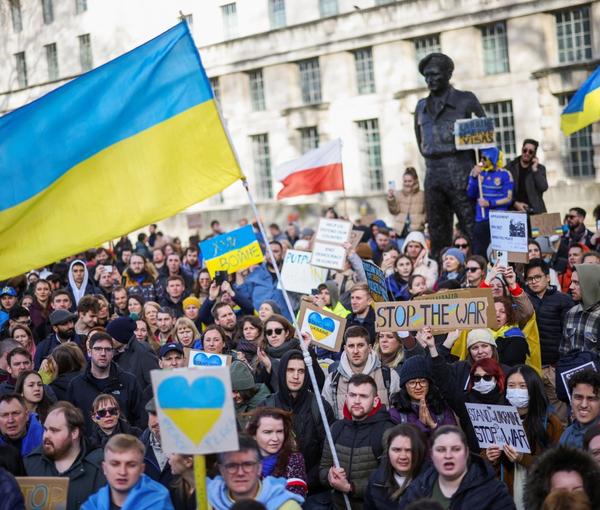 Debate Over Ukraine Invasion Intensifies In Iran
Two Tehran newspapers affiliated with the office of Supreme Leader Ali Khamenei presented conflicting views about Russia's invasion of Ukraine on Saturday.
Iranian officials, including President Ebrahim Raisi, and some media outlets have supported Russia's actions by blaming NATO and the United States for provoking Moscow.
Meanwhile, reports from Tehran say groups of Iranians have asked for the government's permission for a protest gathering Saturday afternoon in front of the Ukrainian Embassy in Tehran Saturday evening to show their anger at the invasion.
The hardliner daily Kayhan, which always supports Russia and maintains tough anti-US rhetoric, warned other countries and probably cautioned its pro-Khamenei readers that "The United States has once again abandoned one of its allies" and maintained that "Pro-Western individuals should take a lesson from This."
The daily quoted Ukrainian President Volodymyr Zelensky as having said that "The westerners watched the situation from afar and left us alone," a statement that could be part of Russia or Kayhan's propaganda effort.
The Kayhan continued that during the past decades the United States has abandoned several of its allies after pushing them into crises. The daily mentioned former Afghan President Ashraf Ghani as an example and quoted him as saying the "I wish I had not trusted the Westerners."
Kayhan, which has been backing Russia's invasion of Ukraine during the past two days, carried extensive reports and commentaries supporting Russia's position in an exaggerated tone. On the other hand, Jomhouri Eslami, a newspaper whose proprietor is no one but Ali Khamenei, has been taking a more pragmatist position.
In its editorial on Saturday, Jomhouri Eslami reminded that "Russians are as untrustworthy as the Americans. "The Russian's record of invasion of Iran's Azarbaijan and Gilan provinces in early and mid-twentieth century, as well as their shelling of the holy shrine of Imam Reza [the 8th Shiite Imam] in Mashhad and its support for Saddam Hussain's Iraq in the 1980s war against Iran shows this reality quite clearly."
The editorial also observed that Iranian position of Iranian officials regarding the invasion of Ukraine cannot be ignored. "The stances declared by Iranian officials about the invasion contradict the principles of the Islamic Republic. Russia has clearly violated Ukraine's sovereignty and military occupation of a country is against international regulations and ethical values. Therefore, the officials of the Islamic Republic should unreservedly and clearly condemn Russia's warmongering and remind Russian leaders that the right thing to settle disputes is dialogue between Moscow and Kyiv."
The contradictory views expressed by two newspapers published by Khamenei's office might show that the Islamic Republic's leader has been prompted to balance the government's stances toward the Ukrainian crisis. This is particularly important as regime insiders such as former lawmaker Ali Motahari have said that Iranian officials are behaving in a way as if Iran is a Russian Colony.
In another development Reformist commentator Sadegh Zibakalam has apologized in a tweet to the Ukrainian people for Iran's support of Russia and asked them to understand that it is not easy for Iranians to publicly oppose Russia's policy and actions.
Meanwhile, former Iranian diplomat Hossein Mousavian, holding an academic post at Princeton University, also criticized Iranian officials including President Ebrahim Raisi and Security Chief Ali Shamkhani's pro-Russian statements and said that making such statements are contrary to Tehran's interests.