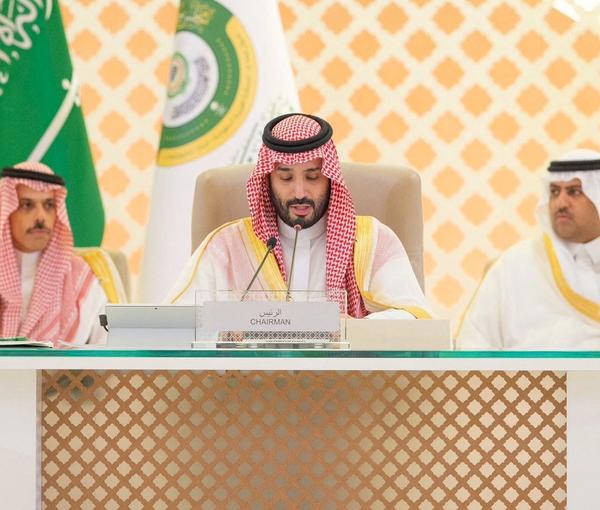 Saudi's MBS Plays Diplomatic Balancing Act, But Can He Pull It Off?
Saudi Crown Prince, Mohammed Bin Salman, the de facto ruler, has made a series of bold moves in recent months, not least, in his reconciliation with Iran.
From the US to China, the young ruler is trying to show his force in a region where power plays are constantly shifting. Most recently, that power play seems to be blowing up a little, with the UAE's President Mohammed Bin Zayed shunning the recent Arab League Summit in Saudi, following MBS boycotting a meeting in January of GCC heads of state amidst clashes over policy including oil sales and the Yemen war, as the two vie for GCC hegemony.
But it is Saudi's dancing between Iran and Israel which is causing all eyes to be on Riyadh. Just weeks after the detente between Saudi and Iran, breaking years of tension between the two regional powers, it appears MBS has received a call from Israel's Prime Minister Benjamin Netanyahu and Foreign Minister Eli Cohen. Such a move would have been followed by a torrent of abuse from Iran had this happened just weeks earlier, but as things are shifting in MBS's favor, Iran has largely remained quiet.
At the Arab League Summit, Qatar's ruling Emir Sheikh Tamim bin Hamad Al-Thani walked out before a speech given by the newly readmitted Bashar al-Assad in a stand against the Syrian dictator. While Al-Thani welcomes warming ties with Saudi and Qatar's Gulf neighbors after the recent lifting of the embargo, the gas-rich state still flexed its muscles to show Riyadh is not calling the shots in Qatar's regional relations.
Saudi Arabia's Crown Prince Mohammed bin Salman meets with Syria's President Bashar al-Assad, in Jeddah, Saudi Arabia, May 19, 2023.
Confrontation with America under the Biden administration, stronger alignment with China, expanding relations with Russia and inviting Ukraine's President Volodymyr Zelensky to the Arab League meeting, show MBS playing an interesting game on the global stage for the world's largest oil exporter.
Iran's Etemad newspaper wrote of the shifting sands: "From the point of view of some experts, this action of bin Salman is reminiscent of the policy of reducing problems with all regional and international parties to zero, while others consider it to be stepping on the edge of an abyss that can destroy all plans even with one step or one wrong behavior."
Warning of the risks at stake, moving between some of the world's biggest rivals, Etemad said of MBS: "Whether in the domestic dimension or in the regional and international arenas … he loves to walk in minefields and play with contradictions."
While the Saudi media describe his behavior as the creation of a new Arab order, MBS the flag bearer of the beginning of a new chapter in the region and the man to see an end to its conflicts, others see his position between democracies and dictatorships as a major gamble.
The UAE has long shown itself as a diplomatic kingmaker in the region, the first country to sign the US-brokered Abraham Accords in 2020, it also made peace with Iran last year, long before Saudi. Meanwhile, Qatar and Egypt also pride themselves as long-standing regional peacemakers and want their share of the peace-pie before they hand the reins to MBS. It is unlikely that any of these nations will be happy to see MBS call the shots, in spite of regional frustrations with the Biden administration and the growing influence of Russia and China, the latter of which played a significant role in the Saudi-Iran detente.
"It is not believed that Muhammad bin Salman has the ability to play on several ropes for a long time," wrote Etemad. 
MBS is still seen by the West as a brutal dictator responsible for the likes of mass displacement as whole tribes are removed to make way for the NEOM development and executions in spite of a sharp PR campaign to suggest the country is undergoing major reform and opening up to the world with a raft of jaw-dropping mega projects.