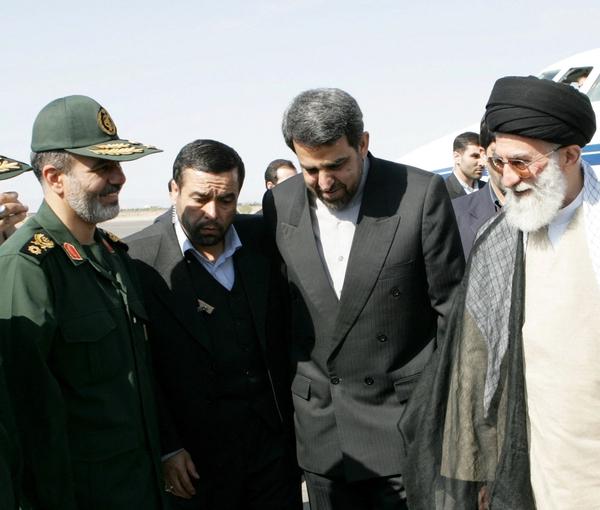 Iran Appoints New Security Chief
Iran's Security Chief Ali Shamkhani has stepped down with President Ebrahim Raisi appointing a heavily sanctioned Revolutionary Guards commander as his replacement.
Shamkhani, who served as the secretary of Iran's Supreme National Security Council (SNSC) for almost a decade, was replaced by Ali Akbar Ahmadian, an IRGC chief of the Joint Staff in the 2000s who later headed the Guards' strategic center.
In recent months there were rumors about Shamkhani stepping aside as hardliners blamed him for failure to suppress protests. In video-taped remarks released on the internet in November, former lawmaker Hamid Rasaei, a hardliner cleric, accused him of failing to quash protests.
He will be replaced by Ahmadian, a natural born IRGC commander, designated by the UN Security Council in March 2007 and listed by the European Union in April 2007. By October same year, he was added to the Specially Designated Nationals (SDN) list of the US Department of the Treasury. He is also sanctioned by the governments of Australia and Japan.
It is unclear if Shamkhani resigned or was pushed. A long-time ally of the Supreme Leader appointed as the secretary of the SNSC in September 2013, he has been instrumental in shaping the regime's security policies during his tenure. The rear admiral upper half (two-star general) was the only ethnic Arab Iranian in such a senior position and was active across the whole political sphere in the Islamic Republic since its establishment.
Shamkhani was engaged in an armed struggle against the Pahlavi dynasty as a member of a clandestine Islamist guerrilla group, Mansouroun, and joined the IRGC shortly after the Islamic Republic's formation in 1979. He served as deputy commander of the Guards from 1981 to 1988 and as defense minister under two-term reformist president Mohammad Khatami from 1997 to 2005.
Wang Yi, a member of the Political Bureau of the Communist Party of China (CPC) Central Committee and director of the Office of the Central Foreign Affairs Commission attends a meeting with Secretary of Iran's Supreme National Security Council Ali Shamkhani and Minister of State and national security adviser of Saudi Arabia Musaad bin Mohammed Al Aiban in Beijing, China March 10, 2023.
Like most regime insiders, he has been dogged by scandal, including reports about Shamkhani's sons -- Hassan and Hossein -- owning dozens of businesses, such as large shipping companies. There have also been reports about the extravagant lifestyle of his family members in Iran and abroad. Following "rumors" that even his toddler grandson has hundreds of thousands of dollars in just one bank account as well as several properties, authorities announced that the bank account was blocked. Iran International's investigative journalist Mojtaba Pourmohsen has published several exposés about the family corruption, including his nephews Mo'ud and Naji Shamkhani.
His final legacy was the China-brokered détente with Saudi Arabia. Saudi Arabia had severed relations with the Islamic Republic in January 2016 after pro-government Iranian mobs attacked and ransacked its embassy in Tehran and consulate in Mashhad following the execution of a Saudi Shiite cleric. 
After Shamkhani signed the agreement to end a years-long political rift with Saudi Arabia in Beijing on March 10, he embarked on regional trips to improve strained relations with Arab neighbors. Visits to the UAE and then Iraq were part of the effort to keep up the momentum.
Journalist Ehsan Mehrabi told Iran International that the sidelining of Shamkhani is that Khamenei wanted someone with a less scandalous career for the job. He added that although Ahmadian -- the new security chief – played a key role in the Islamic Republic's naval mining of the southern waters of Iran, he mostly kept a low political profile, hardly appearing in the media or delivering speeches.
Iran's new Secretary of the Supreme National Security Council Ali Akbar Ahmadian is seen next to the late Iranian Major-General Qasem Soleimani during a meeting in Tehran, Iran, in this undated picture obtained on May 22, 2023.
The pundit also believes that Khamenei and Raisi may also seek to prevent Shamkhani winning any further credit for Tehran's upcoming diplomatic gains after the restoration of ties with Riyadh, perhaps with Egypt on the agenda.
Speaking to Iran International, political commentator Morteza Kazemian suggested the new security chief will likely expand focus on the regime's security policy to Iran's regional proxy forces, holding views similar to those of Qassem Soleimani, the former commander of the IRGC's extraterritorial Quds Forces killed by the US in Baghdad in 2020. The long-time IRGC loyalist even served as the head of the Imam Hossein University, where Iran recruits and trains Revolutionary Guards.
He is also of the opinion that Raisi assigned Ahmadian for the job under the orders of Khamenei, who recently also appointed the IRGC commander as a member of the country's Expediency Discernment Council, an administrative assembly whose members are appointed by the Supreme Leader.
Speculation continues over whether or not the personnel change will lead to real policy shifts, some even suggesting Shamkhani might be considered for a "more important position" in Iran, especially considering a parliamentary election on the horizon. Whatever the reasons, Shamkhani's departure may indicate the regime is heading toward an ever-more conservative direction, reshuffling anyone even deemed moderately centrist.