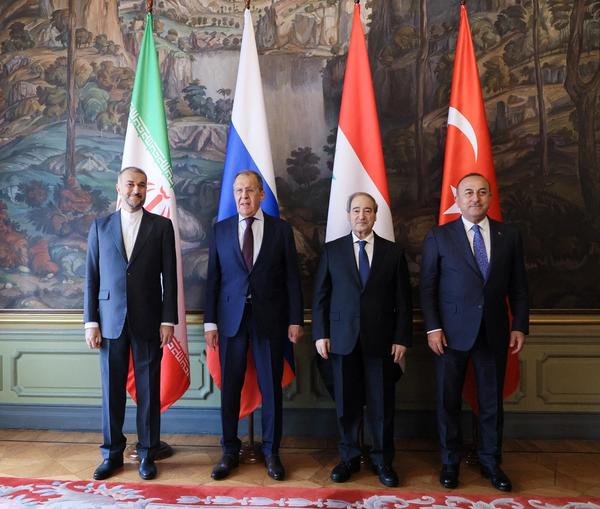 Turkey, Syria, Russia And Iran Hold Highest-Level Talks Since Syrian War
Foreign ministers for Turkey, Syria, Russia and Iran met on Wednesday in Moscow, on rebuilding ties between Ankara and Damascus after years of animosity during Syria's civil war.
Turkish Foreign Minister Mevlut Cavusoglu said in a tweet that he had stressed the need for "cooperation in the fight against terrorism and working together to establish the basis for the return of Syrians" during the meeting.
NATO member Turkey has backed political and armed opposition to Syrian President Bashar al-Assad during the 12-year civil war and sent its own troops into the country's north. It is also hosting more than 3.5 million refugees from its neighbour.
Cavusoglu said "taking the political process in Syria forward and protection of Syria's territorial integrity" were the other issues discussed.
Syria's foreign minister Faisal Mekdad was quoted as saying by Syrian state news agency SANA that "despite all the negatives of the past years, there is an opportunity" for Damascus and Ankara to work together.
But the priority for Syria was ending the illegal presence of all foreign militaries including Turkey's, Mekdad said.
Syria's northwest includes a sliver of territory held by rival militias, including hardline armed groups and jihadist factions backed by Turkey.
"Without progress in this matter, we will remain stagnant and will not reach any real results," Mekdad was quoted as saying.
Russia's foreign ministry said in a statement there had been a "positive and constructive atmosphere" and that the countries' deputy foreign ministers would be tasked with preparing a roadmap to advance Syria-Turkey ties.
Report by Reuters