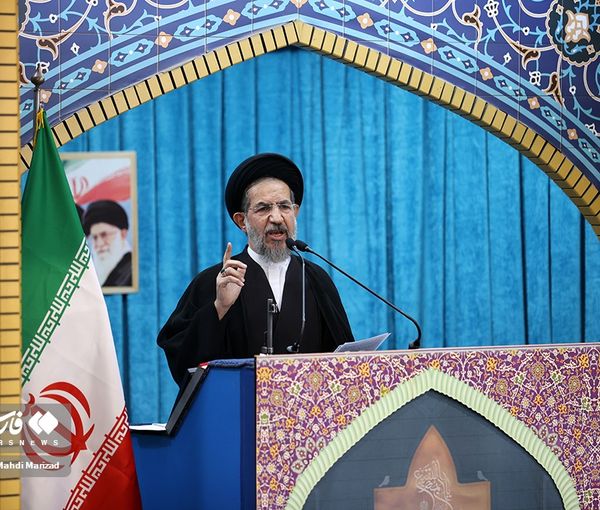 Friday Imams In Iran Demand An End To Economic Crisis
With no prospect of controlling Iran's economic crisis, even high-ranking clerics representing Supreme the Leader have begun speaking out and demanding solutions.
Friday Prayers Imams in some major cities expressed their unhappiness over the government's performance, similar to criticism by many conservatives who backed President Ebrahim Raisi's election less than two years ago.
Hashem Hosseini Bushehri, the Friday Prayers Imam of Qom, the venue of the country's most important seminary said in his sermon on Friday: "State officials spend most of their time in meetings with unknown results." He suggested that "Decisions made in those meetings should be followed up seriously by executive officials."
Referring to the declining value of Iran's currency, he said, "The government's monetary policies should not change constantly. Some investors say they cannot count on the government's monetary regulations even for one day as things might change."
Hashem Hosseini Bushehri, the Friday Prayers Imam of Qom
Bushehri also echoed Ali Khamenei's recent remarks criticizing discord among the executive, legislative and judiciary bodies.
Friday Prayer Imams are appointees of the Supreme Leader and often reinforce his messages. Their demand for economic improvement can be seen as a sign that Khamenei's patience is running out, as high inflation can trigger more protests.
Without mentioning the ongoing strikes and protests in the country's industrial centers, Bushehri called on the government on the occasion of Labor Day to find legal ways to help Iranian workers. 
While inflation has topped 50 percent and the rial has halved in value, workers' monthly salaries hover around $120-150. In the past ten days workers at more than 100 companies and plants went on strike.
Bushehri also called for "a competitive parliamentary election, so that the enemies will not be able to talk sarcastically about low turnout in Iranian elections."
The temporary Friday Prayers Imam of Mashhad, another religious city in Iran, Mohammad Bagher Farzaneh, who was standing in for the firebrand cleric Ahmad Alamolhoda criticized the government for the worsening situation and said: "Economic problems cannot be concealed."
The temporary Friday Prayers Imam of Mashhad, Mohammad Bagher Farzaneh
He said more than 51 percent of Iranians in big cities do not own a home and inflation has impoverished ordinary people. 
However, also echoing Khamenei he said that the "economic problems can be solved if officials stand united, obey the Supreme Leader and have sympathy for each other." He added that it was a shame that 43 years after the Islamic revolution, the country's leader has to point out discords among the heads of the three powers of the government.
Recently, Ghasem Saedi, a senior lawmaker from Khouzestan Province had said that "The government has ruined the country's economic security," and warned the government that it cannot protect its credibility by chanting meaningless slogans. 
In another part of his sermons, Farzaneh said: "Today, no one can claim that the United States does not have any infiltrators in Iran." He said that infiltrators are the main element behind the discord among the country's officials, without saying which high-ranking official in the government is a US infiltrator.
Meanwhile, the Friday Prayer Imam of Tehran, Hassan Aboutorabi-Fard, the only Imam with some executive experience under former President Mahmoud Ahmadinejad, also criticized the government for making economic decisions without thinking about the consequences and without considering the financial resources needed for implementing those decisions. 
Aboutorabi-Fard warned the country's "rulers and managers" that their performance will inevitably affect all aspects of people's life. 
The Friday Prayers of Tehran on April 28, 2023
However, it was interesting that he also warned the government that measures to enforce hijab should be taken in a way to boost national unity rather than creating discord among the people and the government. 
In recent weeks, as more women have defied the regime's dress code and appear in public without a veil, hardliners in the government have been pushing for more enforcement measures.
Already, harsh policies against women triggered major nationwide protests leading to more than 500 deaths.