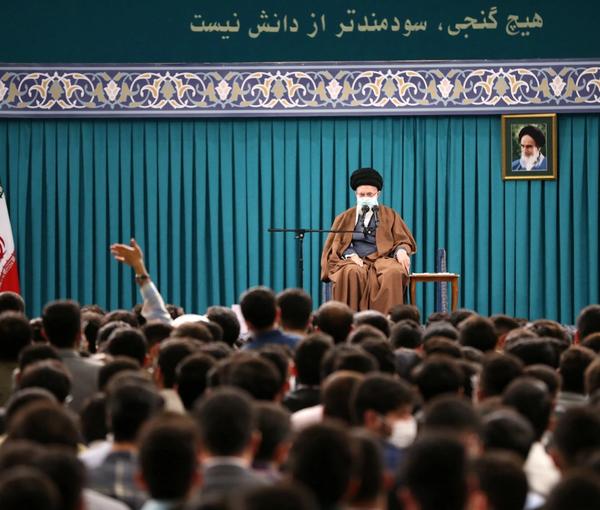 Khamenei Says People Aren't Capable Of Deciding On Key Issues
Iran's ruler Ali Khamenei has dismissed the possibility of a referendum over the country's important issues, saying that people are not capable of make decisions. 
Despite repeated calls by political figures and critics of the Islamic Republic, the Supreme Leader said that various issues in the country "cannot be subject to a referendum".
During a meeting with a cherrypicked number of students on Tuesday, Khamenei said, "Is it possible to hold referendum on various issues in the country? Where in the world do they do this? Do all the people who have to participate in the referendum have the ability to analyze that issue?" he said.
Khamenei's rhetoric of comparing his regime with other countries is misleading, because he and his loyalists have severely restricted most freedoms and manipulated elections, jailed opponents and critics and jailed or killed protesters.
Former regime insider and currently opposition figure Mir-Hossein Mousavi, who was a presidential candidate in 2009 and has been under house arrest since 2011, as well as former president Hassan Rouhani and several others have called for a plebiscite over key issues, such as a new constitution, or the nuclear program. 
Former president Rouhani said earlier in the month that the main solution to the existing problems of the country is to hold a referendum on the three issues of "foreign policy, domestic policy and economy." 
"Student activities should not polarize the student community and the country. Polarization is the will of the enemy. Students' demands must be accompanied by realism and providing scientific and practical solutions," the Leader said, adding that "Hardships do not demoralize a motivated young student. He studies and fights to solve problems."
Requests were also made to hold a referendum on the highly controversial issue of mandatory hijab, but a regime outfit that acts as morality watchdog opposed the idea. 
Groups of Iranian reformist politicians and activists have come out in support of Mousavi's call for a referendum. Over 400 political activists and journalists have signed a statement in support of the Green Movement leader's call to end clerical rule in Iran.
"With the current social awakening, and the society's disillusionment with reforms within the current [political] structure, there is no other way than allowing the people to decide their own destiny," the statement said while expressing its support of Mousavi's three-stage proposal and a "peaceful and non-violent transition" to a democratic government and the "Woman, Life, Freedom" Movement.
Iran's ruler Ali Khamenei during a meeting on April 18, 2023
In another statement, 112 reformists who are mostly former government officials, issued a similar statement Sunday admitting that the goals of the 1979 revolution to have justice and democracy in Iran have failed, and voiced support for Mousavi's demands.
Mousavi, after months of popular anti-regime protests, said in a statement on February 4 that fundamental change was required to "save Iran" and proposed elections to appoint a constitutional assembly to write a new constitution and a referendum on the new constitution and its proposed form of government.