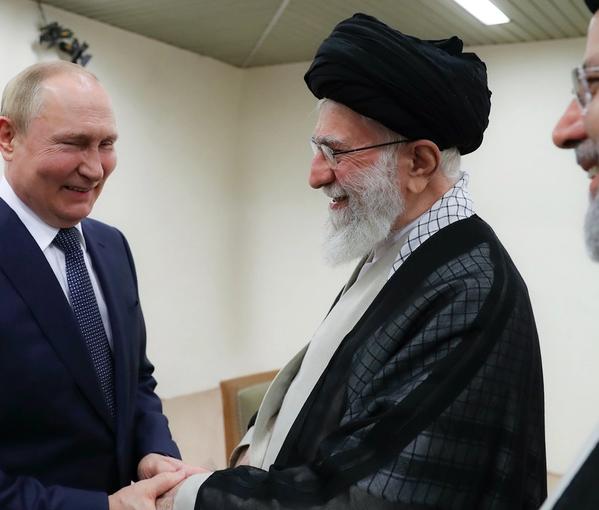 Russia, Iran Military Cooperation Expands To Digital Surveillance
As the US weighs Iran's destabilizing actions across the Middle East, the United States now has to deal with Tehran's expanding cyber cooperation with Russia.
Challenges posed by Iran continue to grow, forcing the Biden administration to take more of a hands-on approach to the regime than it possibly wanted.
While Iran supplies drones and reportedly other weapons to Russia, its proxy forces attacked US bases in Syria last week, with the US launching a rare retaliatory strike, but emphasizing its goal of avoiding a wider conflict with Tehran.
The WSJ reported Monday that Moscow's burgeoning military cooperation with Tehran includes a plan to help its sanctioned ally's cyberwarfare capabilities, according to the Journal's sources.
The US State Department has avoided a direct response to the report. Deputy spokesperson of the US State Department Vedant Patel was asked during his press briefing Monday to react though strangely, said he had not seen it, although the article was published hours before the briefing took place.
Patel did, however, publicly comment that there is no doubt about the concern felt in the White House. "What I will say is that of course Russia's deepening of relationships with malign actors like Iran continues to be a deep concern," he said.
He added, "We have seen the havoc caused by Iranian-made drones that Russia has unleashed on Kyiv, targeting energy and civilian infrastructure, so of course this relationship is one that we are paying close attention to."
Iran, which never condemned Russia's invasion of Ukraine, began supplying kamikaze drones to its ally in mid-2022. US National Security Advisor Jake Sullivan warned in mid-July that Russia was seeking to obtain Unmanned Aerial Vehicles (UAVs) from the Islamic Republic.
The first Iranian drones were used by Russia in noticeable numbers in October and first evidence of a UAV downed by Ukraine emerged on October 6.
Parts of an Iranian drone shot down in Ukraine on October 6, 2022
The WSJ quoted sources as saying that Russia has been providing Iran with communication, surveillance and eavesdropping capabilities, photography devices and lie detectors from the start of the war in Ukraine.
This is when talks in Vienna to revive the 2015 nuclear accord with Iran broke up, despite intense Western efforts to reach a compromise with Iran. In August, the European Union offered one final plan that according to Washington Tehran did not accept, by putting forth new unacceptable demands.
It is not clear to what extent Russia's technical assistance is geared toward boosting military capabilities or Iran's policing resources against dissidents. Surveillance technology in many cases can have dual use too. Tehran already has an extensive system of digital surveillance over its population much like China and it widely censors the internet.
As local media is under heavy government control, Iranians rely on messaging apps to receive news and exchange information. This becomes even more crucial during protests, when news about rallies and gatherings becomes a mobilization tool for protesters.
The government banned Instagram, the one accessible major platform last year to prevent communication between the people and news reaching the outside world about the protests.
Seeing this as insufficient, authorities also resorted to denying access to the Internet in wide swaths of the country for months, hurting millions of people who relied on digital commerce to make a living.
China has also been assisting Iran's digital surveillance programs. In December, the United States blacklisted China's Tiandy Technologies for supplying video surveillance equipment to the Revolutionary Guard (IRGC).
Western countries, Israel and Saudi Arabia have in the past reported frequent Iranian cyber-attacks on government and private institutions. Social media giants Facebook and Twitter have closed thousands of fake Iranian accounts for spreading disinformation.
What this means for Iranians and for wider geo-politics is yet to be seen, but what is clear, is that the desire for Biden to quietly leave the Middle East behind, is ever-more unlikely.