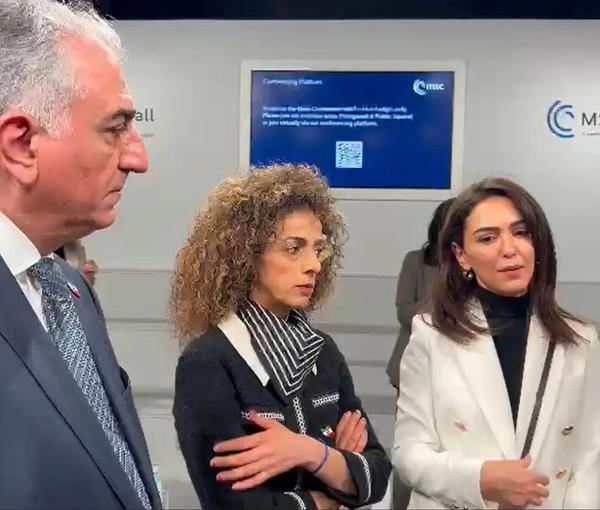 Ex-Diplomats Say Pressures Mount On Iran As It Challenges The West
A former diplomat says Iranian opposition was invited to the Munich Security Conference but not the government, because of its support for Russia's war in Ukraine.
Ali Majedi, Iran's former ambassador in Germany wrote in an article in Etemad newspaper in Tehran that "The fact that neither Iran, nor Russia were invited to the conference clearly shows where the pressure on Iran is coming from and what impact Iran's support of Russia in the Ukraine war has left on Tehran's foreign relations.
Russia has been using Iranian supplied Kamikaze drones to attack Ukraine since October, and the West is concerned about further Iranian involvement, including supplying missiles to augment Russia's declining stocks.
The former ambassador said that supporting Russia in the Ukraine war was perhaps Iran's biggest mistake during the past year. He added that Iran's behavior has united Europe and the United States against Iran. Tehran has also missed the chance of reviving the nuclear agreement with world powers because of this.
Western countries are now focused on delegitimizing the Iranian government and Iran is now only counting on countries such as China, Majedi said and asked if Tehran could count on Beijing when in past the Chinese supported international sanctions against the Islamic Republic.
Majedi said Germany has always been Iran's biggest trade partner in Europe and Berlin's stances has always been more favorable toward Iran in the nuclear negotiations. The Iranian foreign ministry should now answer why Germany has adopted a tough position against Iran and has become more radical than France and the United Kingdom.
Iranian commentator Mehdi Motaharnia
Meanwhile, international relations expert Mehdi Motaharnia told Khabar Online website that the Munich Security Conference's decision had an obvious message for Tehran which should not be ignored.
Referring to the recent meeting of Iranian opposition figures at Georgetown University in Washington, Motaharnia said that inviting them rather than Iranian government officials makes the decision even more meaningful.
Motaharnia said although the Munich Security Conference is a non-governmental international forum, it is the world's most important security conference, and its impact goes beyond governments and political activists. Entrepreneurs such as Mark Zuckerberg and Elon Musk also take part in it next to kings and presidents. Previously Foreign Ministers Javad Zarif and Hossein Amir-Abdollahian represented Iran at the conference.
"When Iran makes claims about destroying the world order, the other side will also mobilize its forces against the Islamic Republic," he added.
He said, "The rhetoric taking shape against Iran is creating a meaningful atmosphere for designating the Revolutionary Guard (IRGC) as a terrorist group in Europe which is in a way an expansion of the IRGC's designation by the US government."
At the same time, Iran's former ambassador to London Jalal Sadatian predicted in an article in Etemad that "Diplomatic pressures on Iran will increase." He wrote: "Within the current frameworks, the Western side is increasing its pressures on the Islamic Republic and channeling it toward internal developments to drag the situation to regime change."
Other pundits in Tehran have been arguing that Iran's international isolation directly impacts its already fragile economy and also emboldens the opposition. It also creates a widespread impression within the country that the government's foreign policy is disastrous for the country.
Sadatian added that the United States is the world's leader and when Iran rejects the United States' supremacy, this is unacceptable for the United States.
When Iran chooses to resort to a language other than dialogue and tells the world that it has drones and missiles as tools for diplomacy, pressures will naturally mount and Tehran will be cornered, Sadatian said.