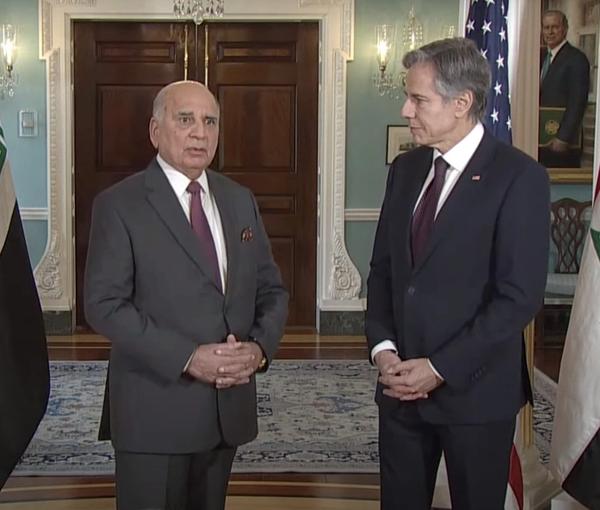 US, Iraq Coordinate Moves Against Money Laundering Benefiting Iran
US officials have discussed banking and money laundering issues related to Iran with a high-ranking Iraqi delegation that visited Washington this week.
Deputy Prime Minister and Foreign Minister of Iraq, Fuad Hussein accompanied by Central Bank Of Iraq Governor Ali al-Allaq met with both the State Department and with Treasury to discuss a host of economic issues. But an urgent issue was how to prevent Iran from using Iraq's banking ties with the United States to launder US dollars and circumvent Washington's sanctions.
The outcome of the talks on this specific issue are not clear yet, but a statement from the US Department of the Treasury made it clear that the problem was among the main topics discussed.
The Treasury said that the two sides discussed the Iraqi "government's plans for economic and financial sector reforms and a mutual commitment to anti-money laundering and countering the financing of terrorism (AML/CFT) measures."
In January, Iraq's currency fell substantially against the US dollar leading to reports that US banks had instituted tougher review of transactions originating from Iraqi banks, leading to a shortage of dollars in Iraq.
The Associated Press reported that the move was triggered a couple of months before to stamp out what Iraqi officials describe as rampant money laundering that benefits Tehran and Damascus which are under US sanctions.
According to information received by Iran International in early February, Iran's Revolutionary Guard and the Islamic Republic's embassy in Iraq are involved in the money laundering operations that aim to funnel the regime's revenues from oil and gas exports back to Iran. As per a repeatedly extended sanctions' waiver by Washington, Tehran is only allowed to import medicine and some essential goods in exchange for its exports of gas and electricity to its neighboring country.
According to a report by London-based newspaper Asharq Al-Awsat, the decline in the value of Iraq's dinar and the accompanying price increases for foodstuffs and imported goods can be traced back to a remarkable change in the policy adopted by the US Treasury and the Federal Reserve Bank of New York.
To what extent these issue were resolved during the Iraqi delegation's visit to Washington is not clear, but banking reforms were mentioned in statements and that shows this was a key topic in the discussions.
Iran is apparently facing a serious shortage of foreign currencies. Its currency, the rial, has fallen by 50 percent in the past years and now stands at a historic low of 500,000 rials to one US dollar.
Despite tougher implementation of US banking regulations by the Treasury, the tone of US officials was extremely deferential and respectful of the Iraqi government. State Department Spokesperson Ned Price during his briefing on February 9 described bilateral relations as one of close partners.
"Our relationship with the Government of Iraq is one based on partnership. It is one based on mutual respect. It is based on our mutual interests and what works to the benefit of both of our countries. It is not our approach…to issue demands, to issue decrees. When we engage with our Iraqi partners, we do often talk about the challenges that we confront in the region and well beyond. Many of those challenges are challenges to both of our interests. Iranian-backed forces in some cases pose a challenge to both of our interests," Price told reporters.