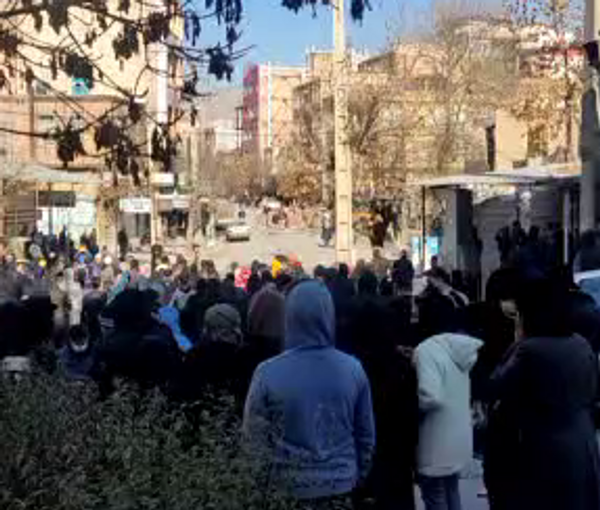 One Killed As Regime Forces Open Fire On Mourners In Iran
Security forces opened fire on people killing one person in Iran's western city of Javanrud as they had gathered for a mourning ceremony for victims killed earlier.
Erfan Kakaie, Bahaoddin Veisi, Tahsin Miri, Masoud Teimuri, Jamal Azami, Johar Fatahi and Esmail Gol Anbar were killed by government forces during the bloody protests on November 20 and 21 in Javanrud, Kermanshah province.
The ceremony to mark the fortieth day after their death, according to Iranian tradition, was supposed to be held in the presence of a large crowd of people Saturday morning.
Reports say that regime forces fired live rounds and tear gas at the people attending the procession.
Social media activists shared videos showing regime agents shooting and killing Borhan Eliasi during on Saturday.
Protesters chanted slogans like "Martyrs will not Die" and "Death to Khamenei" to resist the security agents.
Iran's Kurdish cities have been at the forefront of the protests that started with the death is custody of 22-year-old Mahsa Amini from the Kurdish city of Saqqez in mid-September.
People in Javanrud marching toward the cemetery
People in most Kurdish-populated areas in Kordestan, West Azarbaijan and Kermanshah provinces have relentlessly protested and defied government forces since Amini's death.
According to Hengaw organization for human rights, at least 128 Kurdish citizens have been killed by the direct fire of government forces and 52 other ordinary citizens have been executed in 2022.
Out of the 128 citizens who were shot dead, 116 were related to the popular uprising, while others were porters carrying goods between Iran and Iraq, in what authorities say is smuggling of Western merchandize, including washing machines and other goods.
Nineteen victims were under 18 years of age that are considered minors according to international norms.
Meanwhile, reports from capital Tehran say a large group of people have been holding a protest gathering near the Grand Bazaar on Saturday but details are still coming in. Tear gas was fired by security forces but there are no details about possible clashes or injuries.
Grassroot groups had earlier published calls for protests and gatherings near Tehran bazaar, which is the business hub of the capital, after the national currency fell in shocking speed in recent days against the US dollar and other major currencies.
According to local experts, government's incompetence, widespread corruption and sanctions pushed the US dollar to over 440,000 rials this week, forcing many business owners to shut down their shops.