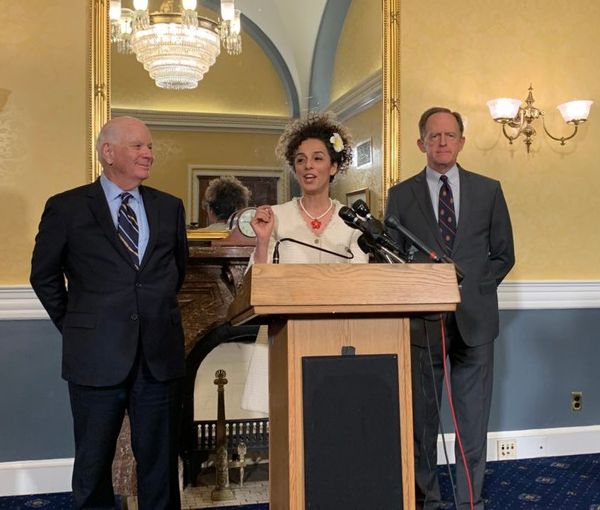 US Congress Reportedly Passes HUNT Act Against Islamic Republic
The US Congress has reportedly passed the Masih Alinejad HUNT Act, named after the US-based journalist who was the target of a kidnapping plot by Tehran last year. 
"It's official: Congress has passed the Masih Alinejad HUNT Act, imposing mandatory sanctions on Iranian officials responsible for ongoing suppression of basic human rights in Iran and identifying any foreign banks transacting with those sanctioned individuals," Twitter account of Senate Banking Committee Republicans said on Saturday.
Its Ranking member is Pennsylvania's Republican Senator Pat Toomey, who cosponsored the act with Maryland Democrat Senator Ben Cardin. The Masih Alinejad Harassment and Unlawful Targeting Act of 2021 or the Masih Alinejad HUNT Act of 2021 was introduced in the Senate in December 2021 after the New York-based journalist was the target of an Iranian plot to kidnap her and take her to Iran via Venezuela, according to US law enforcement. On July, a man armed with a loaded AK-47 was arrested outside the Brooklyn home of the Iranian dissident and women's rights activist. A federal complaint said the man named Khalid Mehdiyev, 23, was found with the assault rifle, multiple high-capacity magazines and additional rounds of ammunition and a suitcase full of cash as well as two other different license plates when he was arrested after lurking in the area for two days.
This bill imposes sanctions on foreign persons (i.e., individuals or entities) that are acting on behalf of Iran's government and involved in the harassment of certain individuals, such as human rights activists.
The news about the adoption of the bill was announced on Christmas eve, December 24 when the US Congress is in recess. It is not clear when it was approved, unless if it was part of the omnibus budget bill that was passed right before the holidays.
The bill requires the Department of State to periodically report to Congress on the identities of foreign persons acting on behalf of the Islamic Republic regime that are knowingly responsible for or complicit in the surveillance, harassment, imprisonment, or killing of citizens of Iran or the United States. These can be individuals "who seek to expose corruption or illegal activity by Iranian government officials; obtain, defend, or promote internationally recognized human rights; or obtain, defend, or promote the rights and well-being of women, religious and ethnic minorities, and the LGBTQ community in Iran."
The report must include foreign persons involved in such actions that occur inside or outside Iran, and then the US president must impose property-blocking sanctions on such person, as well as visa-blocking sanctions on the identified individuals.
The Department of the Treasury must also submit to Congress a report identifying any foreign financial institution that knowingly conducts a significant transaction with a person sanctioned under this bill. The Treasury may prohibit the opening or impose strict conditions on the maintaining of a US correspondent account by such a financial institution.
Dozens of Iranian journalists in other countries, including those working for BBC Persian TV and London-based Iran International TV, repeatedly complain about their own and their family members' harassment in Iran, and say they have been threatened by authorities about possible actions.
Iran executed in December 2020 Rouhollah Zam, editor of a social-media channel, after he was kidnapped in Iraq and convicted on security charges and televised confessions, without due process of law.