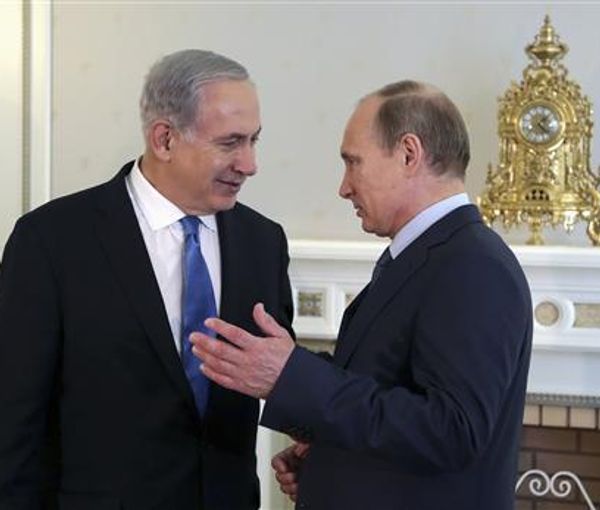 Putin, Netanyahu Discuss Iran And Ukraine
Russian President Vladimir Putin held a phone call with Israeli prime minister-designate Benjamin Netanyahu Thursday, a day after the Ukrainian President Volodymyr Zelenskyy visited Washington. 
Putin congratulated Netanyahu on forming a government while the new Israeli leader told Putin that "he hopes a way will be found quickly to end the war [with Ukraine] and the suffering it has caused."
The two also discussed the Islamic Republic's attempt to entrench itself militarily in Syria, which borders Israel. During his previous term as prime minister, Netanyahu worked out a deconfliction agreement with Moscow whose army operates in Syria, to allow Israel to conduct aerial attacks against Iranian targets and their proxies without tangling with Russian forces. Netanyahu told Putin he "is determined to prevent Iran from obtaining nuclear weapons and to halt its attempts to establish a military base on our northern border."
Since Netanyahu left office in 2021, Moscow has stepped up its military alliance with Tehran, which has provided Russia with armed drones for its invasion of Ukraine.
After Netanyahu won the election on November 1, Zelensky called Netanyahu, as did US President Joe Biden, French President Emmanuel Macron and British Prime Minister Rishi Sunak but it took weeks until Putin's first public call. 
Ukraine's President Volodymyr Zelensky told The New York Times on December 21, that Netanyahu's "personal relationship" with Putin could affect the "historical relations" between Israel and Ukraine. He added that "if he wants to maintain the historical relations between Israel and the Ukrainian people, you have to do everything you can to save as many people as possible."