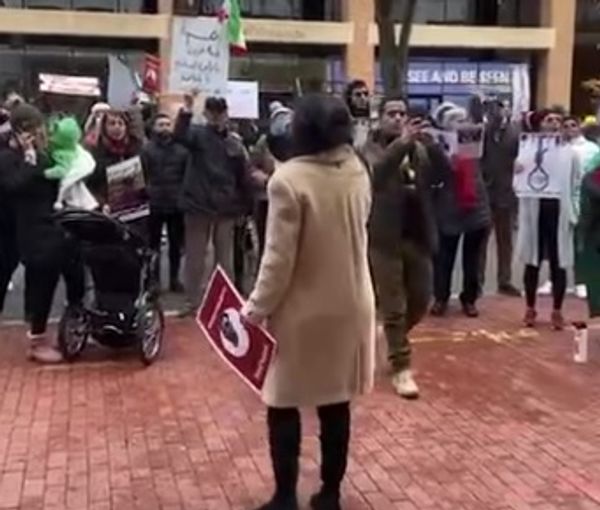 Iranians Hold Gatherings Outside Regime Embassies Across World
Iranians abroad have held rallies in various cities around the world in protest to the execution of young dissidents in their home country.
A group gathered in front of the Interests Section of the Islamic Republic in Washington DC Monday, to show anger at the hanging of protesters. They chanted "Death to Khamenei", and "Death to the whole Establishment".
At the same time, a number of Iranians living in Seattle held a rally in support of the nationwide uprising against the Islamic Republic.
In Germany demonstrators assembled in front of the Embassy of the Islamic Republic in Berlin to express anger at the clerical rulers for the execution of Majidreza Rahnavard, a second protester to be hanged in less than a week in public on Monday allegedly for killing two government security agents.
Mohsen Shekari was the first protester hanged on December 8. The 23-year-old protester was only accused by the judiciary of blocking a street and injuring a Basij militia.
A similar event was also held in Budapest, Hungary in front of Iran's embassy to slam the brutality of authoritarian rulers.
On the other hand, a rally is scheduled to be held in Spain in front of the Embassy of the Islamic Republic in Madrid to protest the arrest of a Spanish citizen in Iran.
London, Stockholm, Los Angeles, Sidney, Chicago, Aarhus were the other cities witnessing anti-government protests by Iranian diaspora.