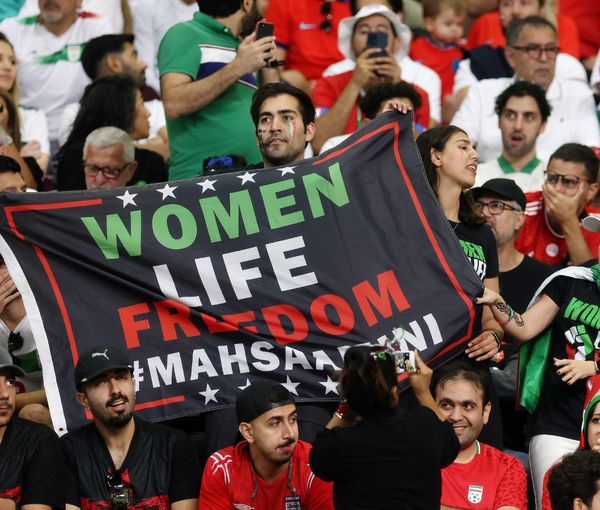 Team Melli Refuses To Sing Anthem As England Thrashes Iran
Despite Iranian footballers' refusing to sing Islamic Republic's anthem in support of the protests, they did not manage to save face as their humiliating 6-2 defeat prompted Iranians to celebrate the loss of their own team. 
Players of Iran's national football (soccer) team who were heavily criticized by people on social media for their lack of solidarity with the nationwide protests, remained silent when the national anthem was played at the Qatar's Khalifa International Stadium at the beginning of their match against England on Monday. The Islamic Republic state broadcaster censored the footage of the players lining up before the match as the anthem was played.
Iranian players line up during the national anthems before the match against England on November 21, 2022.
Iranian fans at the stadium shouted while the music was being played with some making thumbs-down gestures in an apparent act of protest against the Islamic Republic.
During the game, Iranian fans shouted the name of outspoken former footballer Ali Karimi, who has been charged in absentia for supporting ongoing antigovernment protests. Iranians back home, who usually celebrate in streets after Team Melli matches, came out after the game for more antigovernment protests. However, considering the Internet shut down by the government, footage from the streets is slow to appear online. 
England's Jude Bellingham and Declan Rice take the knee before the match against Iran.
The popularity of the squad has declined in recent months, with many people accusing them of siding with the violent crackdown on protesters, who are seeking the fall of the Islamic Republic. Many people on social media say Iranians are the only nation who are vouching for the opposing team. 
On Sunday, captain Ehsan Hajsafi became the first member of the Iranian team to speak out from the World Cup on the situation at home, saying "we are with them. And we support them. And we sympathize with them."
Iranians expected the players to use the World Cup as a platform to show solidarity with the protesters.
England pummeled the Iranian squad with six goals while Mehdi Taremi's two goals – one from close range and one from the penalty spot – were the only consolation for the Islamic Republic's representatives. 
The match was the worst loss Team Melli suffered in recent history, with many Twitter users saying that if the players had not entered the pitch in support of their fellow Iranians who are being killed by government forces, they would reclaim their lost popularity and would only count as 3-nil loss for the forfeit.