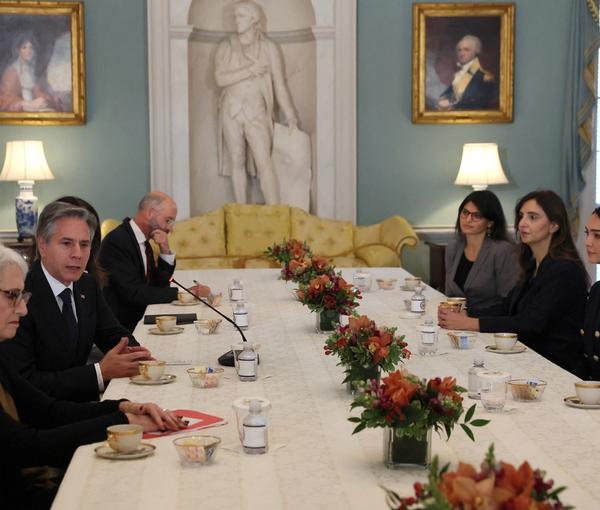 US Secretary Of State Meets Iranian Civil Society Activists, Vows Support
US State Secretary Antony Blinken has met with civil society activists on women's rights and human rights in Iran, vowing support for Iranians who are demanding fundamental freedoms. 
During the meeting on Friday, Blinken said, "We work to support the Iranians who are standing for their fundamental freedoms with extraordinary courage despite the efforts of the regime to deny them the ability to assemble, to speak freely, to communicate with each other."
Iranian-British activist Nazanin Boniadi was among the participants of the meeting. Boniadi is also scheduled to hold another meeting with Vice President Kamala Harris later in the day. Iranian-American writer Roya Hakakian and Iranian-American activist Sherry Hakimi were also present in the meeting, which was also attended by US Special Envoy for Iran Robert Malley and Deputy Secretary of State Wendy Sherman.
British-Iranian actress and activist Nazanin Boniadi (right), Iranian-American writer Roya Hakakian (center) and Iranian-American activist Sherry Hakimi listen as US Secretary of State Antony Blinken (not pictured) speaks during a meeting at the State Department in Washington on October 14, 2022.
Blinken mentioned the recent sanctions on the so-called morality police for its "incredibly abusive practices" and efforts to "license technology" so that the Iranians can communicate with one another and the outside world as measures to back the uprising in Iran, triggered by the death in custody of 22-year-old Mahsa Amini. 
He said, "the Iranian regime will try to paint this and other expressions of solidarity with those standing up for their freedoms as evidence that these protests are somehow made outside of Iran and the work of others," noting that the Islamic Republic's authorities "fundamentally do not understand their own people," and "the struggle of the people of Iran for the fundamental freedoms that have long been denied them." "And the sooner the regime understands that and acts on that. The better everyone will be."
The National Union for Democracy in Iran (NUFDI) sent a letter to Blinken October 11, asking the Administration "to reassess its prevailing policy toward Iran and the team of diplomats tasked to implement it."