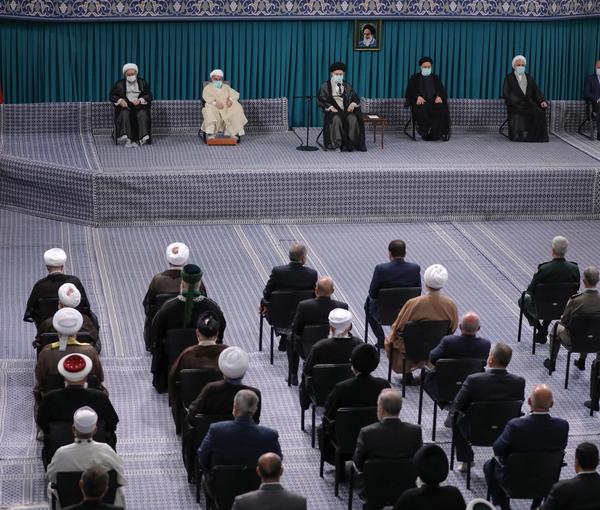 Khamenei Delivers Speech Without Mentioning Current Protests
Iran's Supreme Leader Ali Khamenei delivered a speech to an Islamic gathering in Tehran on Friday speaking about regional issues without mentioning the current protests.
Marking the birthday of Prophet Mohammed, Khamenei spoke at an Islamic conference that Tehran organizes annually by inviting clerical and religious figures from its orbit of influence in different countries.
Khamenei who has twice recently mentioned the nationwide protests rocking Iran saying that they were "minor events", focused on the issue of Islamic unity from the perspective of the Islamic Republic.
The 83-year-old cleric who has ruled Iran for 33 years, said the establishment of relations with Israel by some Arab countries was "the biggest treason" and it is not possible to create unity with them.
Khamenei who is presented by his clerical regime as "the leader of Muslims" has some influence among Shiites who are a small minority among Muslims, but not among Sunnis, many of whom regard the Shia sect as a deviation from the true religion.
Khamenei also praised Iran's efforts in helping Palestinian groups confronting Israel and said that the Islamic Republic stood up against world powers and can be an example to other Muslims.
He reiterated his support for the "Resistance Front", a term coined by Tehran to refer to militant groups in Iraq, Syria, Yemen, Lebanon and elsewhere that enjoy its financial and military assistance.