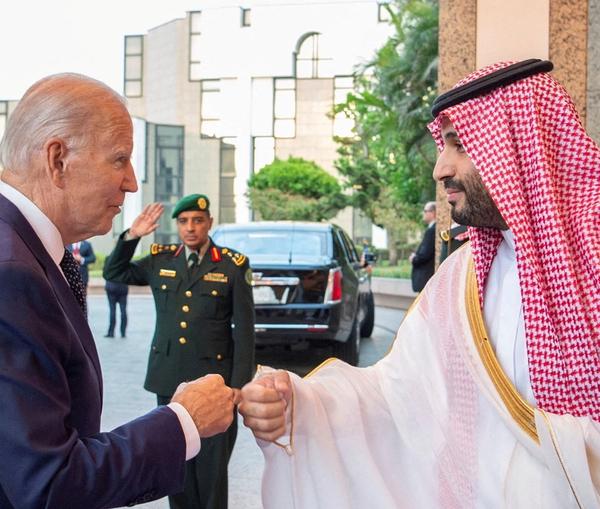 Biden Saudi Jibe Raises Question Over Balance In the Region
United States Middle East policies are under renewed focus after President Joe Biden said Saudi Arabia faced "consequences" over the OPEC+ cut in oil output.
In his CNN interview Tuesday, Biden did not endorse a call from some Democrats to downgrade relations with Riyadh. Neither did the US president back draft legislation from Senator Richard Blumenthal and House member Rohit Khanna to pause arms sales to the Saudis for a year.
But with the Democratic Party fearing higher gasoline prices will harm its chances in November 8 midterm Congressional elections,Biden addressed concerns that the Saudis had agreed the 2-million-barrels-a-day output cut with Russia, the other leading OPEC+ member, just as the US is backing Ukraine against Russia militarily.
Senator Robert Menendez, a New Jersey Democrat, cited the OPEC+ decision in vowing as chairman of the Senate Foreign Relations Committee to work against future arms sales to the Saudis. There are also Democrat concerns over Saudi Arabia's human rights record, at home and its seven-year armed intervention in Yemen where its economic blockade of the country has left 3.5 million people acutely malnourished.
Biden came to office in 2021 pledging to hold Saudi Arabia accountable for the 2018 murder of Washington Post journalist Jamal Khashoggi, only to famously 'fist-bump' July Saudi Crown Prince Mohammad bin Salman al-Saud, whom US intelligence assesses was likely responsible for the killing.
Saudi relations and Iran
But as nuclear talks with Iran have faltered and Tehran is harshly suppressing popular protests at home, the question arises if any attempt to downgrade relations with Saudi Arabia would not present opportunities to Iran in the region.
Asked this question Tuesday, State Department spokesperson Ned Price answered, "we won't take our eye off the threat that Iran poses not only to the region but in some ways beyond. You have seen us…respond and take action…against the malign actions and malign influence that Iran has perpetrated, that Iran has attempted to export throughout the region."
But plans for organizing joint regional air defense against potential Iranian missile and drone threats, as well as other joint efforts might suffer if there is a cold spell in Washington-Riyadh ties.
Price also emphasized US responses to popular protests in Iran, including sanctions on some officials. Amnesty International has reported that Iranian security forces killed at least 130 protestors in late September, including 88 in the south-east province of Sistan-Baluchistan. Washington, Price said, aimed "to support these brave Iranians…across Iran's cities and towns who are exercising peacefully their universal rights."
'Assassination plots'
Critics of the 2015 Iran nuclear deal, the JCPOA (Joint Comprehensive Plan of Action) which the Biden administration has worked to revive, and supporters of Saudi Arabia, have criticized calls for downgrading US relations with Riyadh.
"I don't remember hearing from some voices who are calling for the US to cancel meetings with Saudi Arabia…after Iran plotted to assassinate Americans on US soil while US took part in JCPOA negotiations in Vienna," tweeted Jason Brodsky, of the advocacy group, United Against Nuclear Iran, Tuesday, referring to reports from US law enforcement about Iranian involvement in a plot in 2021 to kill former US National Security Advisor John Bolton and threats against others.
Saudi Foreign Minister Faisal bin Farhan Al-Saud told Al-Arabiya television Tuesday that Riyadh's thinking over cutting oil production was "purely economic." Some Democrats and Saudi dissidents have pointed to the Saudis' relationship with the entourage around former President Donald Trump and suggested the move was instead aimed at influencing the US elections.