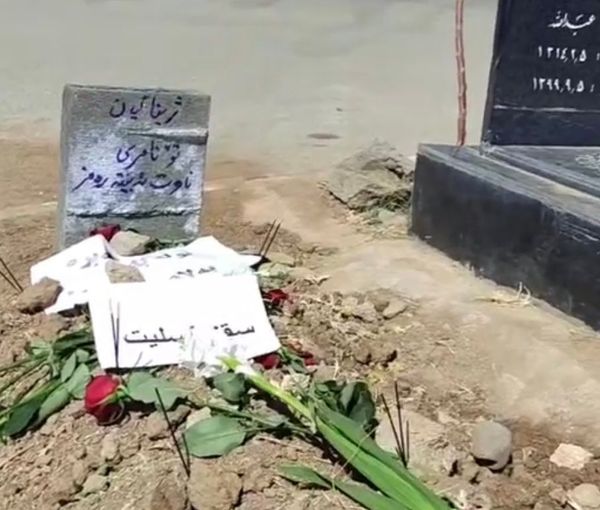 Iranian Politicians Try To Show Sympathy After Death Of Hijab Victim
The shocking death of a young woman detained by Iran's religious police has compelled officials to show some reaction, amid intense public indignation and anger.
Mahsa Amini, a 22-year-old woman visiting Tehran from her native Kurdistan province was arrested by a hijab police patrol for not covering her hair properly. Immediately after her detention she received a severe head trauma and when two hours later she was transferred to hospital she was already in coma and brain dead.
Part of the political elite has shown rare sympathy for a citizen that many people see as the victim of the regime's policies and the brutality of its agents. But judging by reactions on social media, not many people believe in these expressions of sympathy, some saying that politicians are after gaining credit from the incident.
Some politicians have criticized the hijab patrols, stopping women on the streets for their loose headscarves, but many on social media say the problem has gone beyond that and it is the clerical regime that is the root of this and similar draconian measures.
Nevertheless, many hardliners are defiant and defend the regime in the tragic incident.
Vice President Ensieh Khazali who has been under attack in recent days for her son having emigrated to Canada, denied the existence of hijab squads which are more than visible in the Iranian streets.
Mahsa Amini, who received a fatal brain injury in police custody. Undated
Although Iran's reformists have at times reacted to social events, this is the first time hardliners such as Khazali feel the responsibility to be accountable, but they still evade genuine regrets and express support for the wrong side of the argument.
Interior Minister Ahmad Vahidi wrote in a tweet that he has appointed one of his deputies to investigate the case. Many to his tweet, often harshly criticizing the way the government is handling the case and the issue of hijab and civil liberties in general.
IRGC-linked Fars news agency tried in an utterly fabricated report to whitewash the event by quoting unnamed "reliable sources" as saying that the young woman was ill before being arrested and taken to the notorious Vozara police station in Tehran.
Some Iranian hardliner lawmakers have expressed often vague opinions about the alleged murder. Lawmaker Hassan Lotfi told reporters that he is too busy and that he has not heard about the death of the young woman. He further advised Iranian women to observe the compulsory hijab rules.
Several other conservative lawmakers such as hardliner Jalal Rashidi Kouchi have also promised to follow up the case and end such "bitter events that are against religious teachings". Social media users have reminded other netizens that the MPs made many promises on other matters but failed to stand by their word.
On the reform front former IRGC Navy Commander Hossein Alaei called for a thorough investigation of the hijab squads. He has cautiously suggested that the not only the squads have failed to change Iranian women's lifestyle, but their behavior has led some of women to oppose the compulsory hijab. He further suggested that the hijab squad personnel should be assigned to necessary jobs such as tackling theft and muggings in the streets.
Other pro-reform figures such as former President Mohammad Khatami and politician Gholamhossein Karbaschi seemed to be concerned more about what the tragic event can do to the prestige of the regime. Former lawmaker Ali Motahari also wrote that he feared that the death in custody of Mahsa Amini could portray the Iranian government internationally as an entity like the Taliban in Afghanistan.
Pro-reform commentator Majld Tafreshi also called for an investigation into the case and expressed concern that anti-Iran elements might take advantage of the event.
One of the reformist Green Movement leaders Mehdi Karroubi said in his condolence message that the Islamic Republic's Supreme Leader Ali Khamenei has obstructed all avenues for reforms in Iran.
Some former officials and presidential candidates such as Mohsen Mehralizadeh and Abdolnasser Hemmati also mildly expressed regret for what had happened but did not point fingers at anyone. Former Vice Pesident Es'haq Jahangiri simply said that "You cannot ignore such bitter events. Stop this kind of behavior," without making clear who he was addressing.