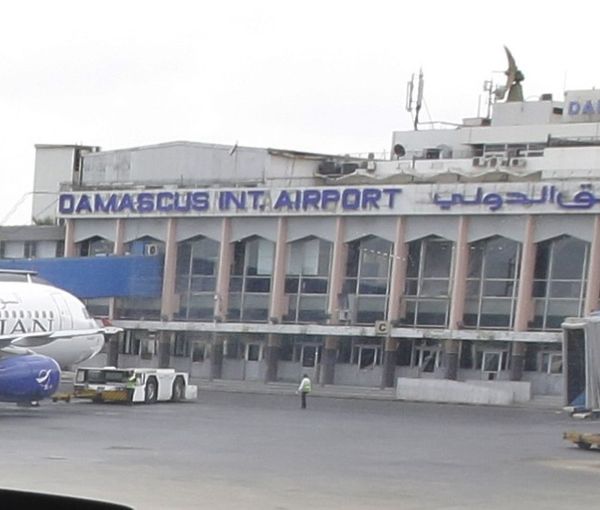 Iran Hardliners Silent After Israeli Raid Closes Damascus Airport
Iranian military officials and hardliner media have largely stayed silent over an Israeli attack on Damascus airport targeting Tehran's assets on the ground.
Syria closed the Damascus International Airport on Friday "until further notice" after Israeli air strikes damaged the airstrip and a terminal, the transport ministry said.
Hardliner media in Tehran Saturday morning barely mentioned the attack, excpet carrying the condemnation of the Iranian foreign minister.
As the news about the Israeli raid spread, Mohsen Rezaei, a former chief commander of the Revolutionary Guard (IRGC) and a vice president in the government, said at a ceremony in Tehran Friday morning that "I wish Israel would dare to take a wrong step and give us an excuse, so we could eradicate it from this earth."
But Rezaei, known for his boisterous comments, was not referring to the attack on the Damascus airport. His comments were a reaction to recent Israeli statements threatening to take action against the Islamic Republic.
The only Iranian reaction to Friday's attack worth noting was the response of the foreign ministry. Foreign Minister Hossein Amir-Abdollahian condemned the attack as a "clear violation of Syria's sovereignty and territorial integrity... (and) contrary to international law and human principles", in a phone call with his Syrian counterpart Faisal Mekdad, Iran's state media reported.
Israeli attacks against the Damascus airport and targets in its vicinity said to house weapons and Iran-backed forces have been a regular occurrence in recent years.
But this time the attack seems to have been more direct and punishing. The transport ministry on Friday said the airport had stopped all flights, and a later statement said Israeli air strikes damaged the runway and one of the terminals.
"As a result of this damage, all arriving and departing flights at the airport have been suspended until further notice," the ministry's second statement said.
Maria Zakharova, Russia's foreign ministry spokesperson, condemned the Israeli attack. "In this regard, we are forced to emphasize again that the ongoing Israeli shelling of the Syria territory … is absolutely unacceptable. We strongly condemn Israel's provocative attack on critical Syrian civilian infrastructure," Sputnik quoted a published statement as saying.
Last month, there were reports that Russia is withdrawing forces from Syria and possibly handing control of some bases to Iranian forces, because of its hard-pressed military situation in Ukraine.
There were also speculations if Israel will become more emboldened in taking action against Iran in Syria.
The Syrian Observatory for Human Rights said on Friday the Israeli bombing had damaged the runway after targeting "warehouses of Iranian militias" near the airport.
An Israeli military spokesperson declined to comment, Reuters reported.
For several years, Israel has been attacking what it has described as Iranian-linked targets in Syria, where Tehran-backed forces, including Lebanon's Hezbollah, have deployed to help President Bashar al-Assad. But there was clear political coordination with Russia, as former Israeli prime minister Benjamin Netanyahu visited Moscow multiple times and held long discussions with President Vladimir Putin.