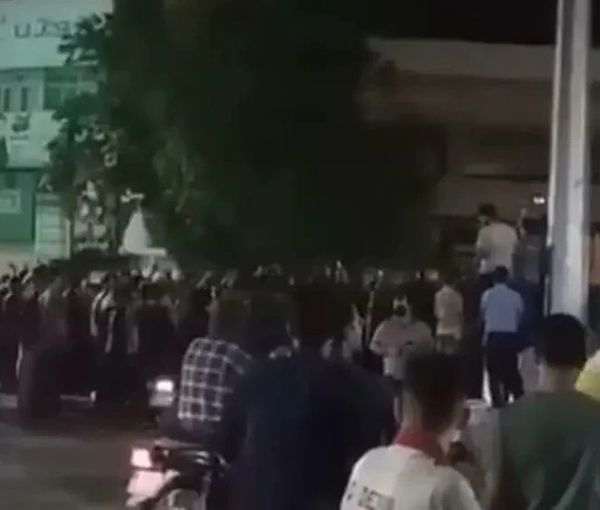 Protests Ignite In Southern Iran Against Government Price Hikes
People took to the streets in several cities in southwest Iran Wednesday evening to protest a massive hike in food prices and chanted anti-government slogans.
The largest protests appear to have occurred in Dezful and there are claims on social media that people had also taken to the streets in the provincial capital Ahvaz, Izeh, and at the port city of Mahshahr.
Khuzestan Province where the protests took place is where Iran's oil fields and production are concentrated.
There are few videos of the protests amid government's disruption of Internet access, but some videos include the narrator's statement of the date, Wednesday, and place which confirm the social media reports about protests in Dezful. In these videos protesters chant against President Ebrahim Raisi, Supreme Leader Ali Khamenei and the hike in prices.
Protesters also chanted slogans in support of the last Iranian royal family. "God bless your soul, Reza Shah," they shouted for the founder of the Pahlavi dynasty. "King of Iran, return to Iran," was another call aimed at the core of the Islamic Republic.
Khuzestan has been the scene of widespread protests in the past few years. Protests over water shortage in July 2021lasted for over a week during which at least eight protesters were shot dead by security forces.
A conservative lawmaker from Khuzestan, Qasem Saedi, on Wednesday warned that rising prices could trigger unrest worse than nationwide protests that rocked Iran in 2018 and 2019.
The cash-strapped government of hardliner President Raisi announced last week that it would stop paying cheap dollar for flour imports which immediately affected the price of bread and pasta. On Thursday a hike in the prices of chicken, cooking oil, and dairy products by two to threefold was also announced. Meanwhile, the Iranian rial broke the politically sensitive 300,000 threshold to the US dollar on Wednesday. It rapidly climbed to 306,000 on Thursday. Forty-five years ago, before the 1979 revolution, 70 rials bought one US dollar.
The government says it will compensate for the rise in prices of basic foodstuffs by paying cash to 90 percent of the population for the time-being, but many believe this will cause further inflation, which already stands above 40 percent.
Minister of Cooperatives, Labor, and Social Welfare Hojjat Abdolmaleki on Thursday said payment of cash will stop within a couple of months, but ration cards will be issued for lower cost food. Rationing foodstuff has been unprecedented since the Iran-Iraq War (1980-1988).
Iran's authorities often shut down or drastically slow down the Internet to prevent protesters from communicating and spreading images and videos of the protests on social media. In November 2019, NetBlocks reported a major disruption of the Internet amid nationwide protests over an increase in fuel prices.
Wednesday evening Internet access of at least one mobile carrier was completely shut down and others were seriously slowed down at the national level.
Social media users had reported disruptions in their connections in the restive province since Thursday last week in areas affected by protests over bread prices.
The international Internet freedom watchdog NetBlocks confirmed Wednesday evening that real-time network data had shown a brief collapse in international connectivity on Internet provider Rightel, as well as a deterioration on other mobile and fixed-line providers.
According to official figures published in August 2021, 94 percent of Iranians have access to mobile Internet while only around 11 percent use broadband. Authorities often reduce connection quality and speed, mainly in mobile Internet, to prevent sharing of videos and photos of protests.