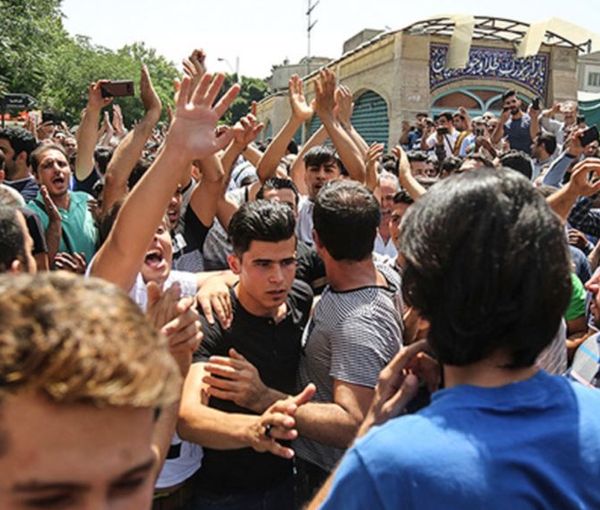 Iranian Lawmaker Warns Of More 'Serious, Dangerous' Unrest
Qasem Saedi, an Iranian conservative lawmaker says rising prices can trigger new unrest worse than nationwide protests that rocked Iran in 2018 and 2019.
Moderate news website Rouydad24 quoted Saedi as saying that the current situation is more serious because the people's livelihood and bread, as the bare minimum for survival, are at stake.
Bread prices jumped last week as the government ended import subsidies for wheat and other essential commodities.
The lawmaker from Khuzestan, where intermittent protests have taken place since last week, said that never in the past 43 years since the Islamic Republic came to existence people have been so concerned about back-breaking prices. Saedi added that millions of Iranians are unable to plan for their life because wrong government policies have made any prediction impossible.
Saedi added that the people's expectations from President Ebrahim Raisi have not been met and we must now acknowledge that his economic team is weak. "It looks like they have no plans and if they had any, those plans totally ignored the interests of low-income Iranians," Saedi said.
"It no longer makes sense comparing prices to what they were in the past months. People can find out about rising prices by comparing them to yesterday's prices," he added.
Qasem Saedi, conservative member of Iran's parliament
The lawmaker explained that low incomes, high inflation, and the government's inability to provide essential commodities have made life difficult for Iranians who can no longer tolerate the shortages and high prices. "This is a situation our enemies in and out of the country have always wished for," Saedi stressed.
Meanwhile, Iran Monitor website quoted former lawmaker Mansour Haghighatpoor as saying that the current parliament (Majles) shares responsibility for the failure of Raisi's government as lawmakers laid a red carpet for Raisi following his election as President in 2021, although now they do not know what to do with the government they helped rise to power.
Haghighatpoor also criticized the Majles for failing to use its supervisory tools to correct the situation. The former lawmaker obviously ignored the fact that the Majles tried on several occasion to impeach Raisi's economic ministers but the its presidium shelved the calls thanks to Supreme Leader Ali Khamenei's support for the Raisi administration that many believe is the leader's creation.
The former lawmaker pointed out that Iran's economic problems are the outcome of an undeniable mismanagement. He charged that the Majles confirmed a group of ministers but cannot supervise or correct their behavior. Haghighatpoor characterized the parliament's performance in this regard as "treason." He said not doing anything about the ministers' failures and not protecting the country's national interests is tantamount to adding insult to injury.
This comes while Iranian political commentator Hassan Beheshtipoor said in an interview with Didban Iran that besides domestic political reasons, there are also international developments that indicate Iran is going to come under further economic pressures. Beheshtipoor added that the current situation in the energy market is not going to last long and at the same time, US Congress seems to be determined to prevent a nuclear agreement between Tehran and Washington that would inevitably bring about an improvement to Iran's ailing economy.
However, like most Iranian analysts, Beheshtipoor also said that the best option for Iran is to try to find a new solution to issues hampering an agreement with the United States, as Tehran is under immense economic pressures.