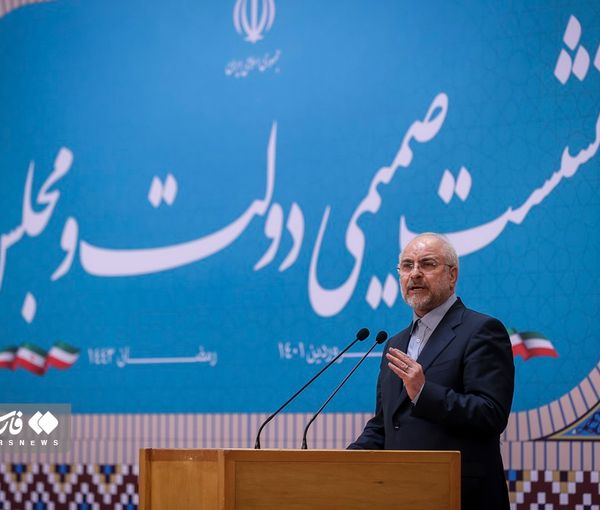 Scandal Offers Iran Hardliners A Shot At Top Parliament Post
Mohammad Bagher Ghalibaf's future as speaker of Iran's parliament (Majles) may not be guaranteed following the scandal of his family's luxury shopping in Turkey.
Although Ghalibaf has already left behind bigger scandals including one involving an 8,000 trillion rial corruption case as the mayor of Tehran (2005-2017) and using drug smugglers' money in his presidential campaign as revealed by former President Hassan Rouhani, this smaller "error" might cost him his position as the speaker of parliament.
Speculations in Tehran indicate that the shopping spree by his family may have not been revealed if it were not for the under-cover photography and filming by elements close to the ultraconservative Paydari Party whose members are Ghalibaf's political rivals in the Majles.
According to Khabar Online website, "Ghalibaf suspects that his political rivals in Paydari Party have conspired to publish a video that shows his family at the airport." The website further quoted Iranian journalist Saba Azarpeik, who posted a picture of Qalibaf's daughter in Turkey on Twitter, as having said: "Who do you think followed Ghalibaf's family in Turkey and took this photograph?" She added: "Mr. Ghalibaf! It appears that as far as some others are concerned, your career has come to an end!"
Azarpeik wrote in another tweet: "Even if the disclosure about Ghalibaf's family is part of a Paydari Party project, we should not ignore this scandal. Our collective knowledge can challenge Ghalibaf about corruption and at the same time criticize the Paydari cult for its Taliban-like ideology." She wrote in a third tweet: "If he cannot control his own family, he should tell us about it. Perhaps the country's officials should think again about handing over the affairs of the nation to him."
Meanwhile, another Iranian journalist Sadeq Hosseini wrote that the scandal is an indication of political rivalries in the conservative camp as hardliners are trying to take revenge for Ghalibaf's lack of support for the bill to restrict social media access among other things. Khabar Online has characterized the episode as Paydari Party leading member Saeed Jalili's project to target Ghalibaf.
Khabar Online observed that "except Ghalibaf's son Elias who has defended his father, many including university students, business activists, workers, academics, clerics and political elites have criticized him for his family's shopping spree, reminding that he has always pretended to be an advocate of 'Jihadist Economy' and austerity measures.
All this is happening against the backdrop of a major election at the Majles next week to choose the parliament's next speaker. Until last week, despite all the manoeuvres of his political rivals, Ghalibaf was almost sure that he was going to win and start a second term as Majles Speaker, an extremely high position equal in rank with the judiciary chief and the president of the state.
Iranian conservative politician and Deputy Parliament Speaker Ali Nikzad
Some of his staunch rivals including current Tehran Mayor Alireza Zakani have effectively ended their bid for the post. But there is one heavyweight rival who is eyeing the position. He is Deputy Speaker Ali Nikzad, who is a key member of Paydari Party.
With the silent escalation of disputes between Qalibaf and President Ebrahim Raisi, Nikzad who was the chairman of Raisi's presidential election campaign as his closest confidant would be the ideal candidate for the post of Majles speaker, as far as Raisi and his team are concerned.
Nikzad, born in 1965 in Ardabil was the governor General of Ardabil Province under former President Mahmoud Ahmadinejad and later become his minister of roads and urban planning and acting minister of housing. Like most Ahmadinejad aides, he distanced himself from him in public after 2011 when the former president fell out with Supreme Leader Ali Khamenei.
Although Nikzad has a good chance of being elected as the parliament's next speaker, Iranian lawmakers know from history, somebody might whisper a message from Khamenei's office a few minutes before voting and demand a vote for Ghalibaf.