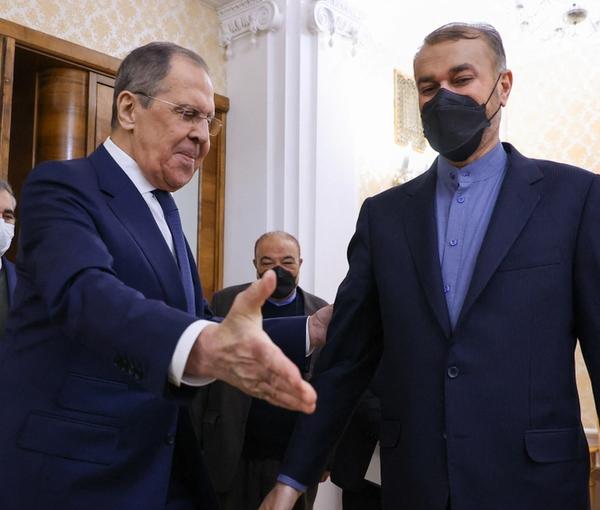 Russia Makes Demands In Iran Talks Related To Ukraine Sanctions
Russia has demanded guarantees from the US that sanctions over Ukraine would not affect its links with Iran, further complicating Iran's ongoing nuclear talks.
Foreign Minister Sergei Lavrov said international sanctions against Russia had created a "problem" for the Vienna nuclear talks aimed at reviving the 2015 Iran nuclear deal, the JCPOA (Joint Comprehensive Plan of Action).
With the talks in Vienna at a critical stage, it is widely assumed Russia would play a central role in implementing a revived JCPOA, including shipping out enriched uranium currently held by Iran in excess of JCPOA limits.
Reuters cited a "senior Iranian official" making a cool response to Lavrov's remarks, calling Russian moves "not constructive" for the Vienna talks. "Russians had put this demand on table since two days ago," the official said. "There is an understanding that by changing its position in Vienna talks Russia wants to secure its interests in other places."
Iran said on Saturday it had agreed a roadmap with the UN nuclear watchdog to resolve all "outstanding questions" about the country's nuclear program by June 21, seen as a push to reach agreement global powers in Vienna.
For a week, analysts have been speculating whether the Ukraine crisis might have an impact on the Vienna talks. Lavrov's statement suggests the two cannot be kept entirely separate.
Avalanche of sanctions
"It would have all been fine, but that avalanche of aggressive sanctions that have erupted from the West − and which I understand has not yet stopped − demand additional understanding by lawyers above all," the veteran Russian foreign minister said. "We want an answer − a very clear answer − we need a guarantee that these sanctions will not in any way touch the regime of trade-economic and investment relations which is laid down in the Joint Comprehensive Plan of Action."
Under a revived JCPOA, Lavrov said, Russia and China would be able to help Iran develop its civilian nuclear programs in line with non-proliferation rules, and should be free to do so without the threat of sanctions.
Russia has long been an ally of the Islamic Republic and their military's have been fighting shoulder-to-shoulder in Syria to protect president Bashar al-Assad's rule.
"There are still several topics which our Iranian colleagues want more clarity on and we consider those are fair demands," he said. "We have asked for a written guarantee ... that the current process triggered by the United States [in sanctioning Russia] does not in any way damage our right to free and full trade, economic and investment cooperation and military-technical cooperation with the Islamic Republic."