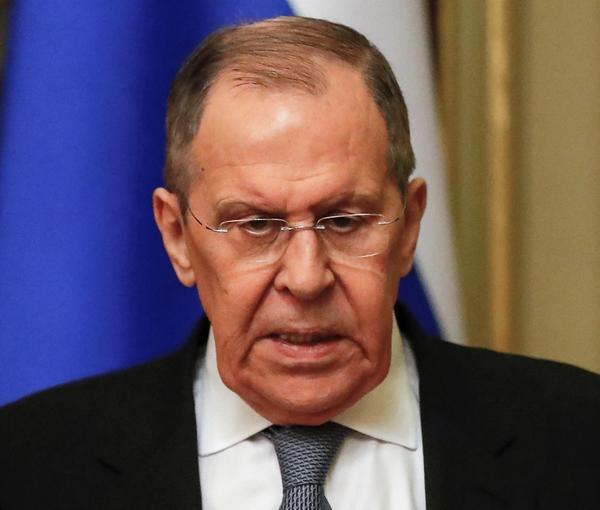 Tehran Media See Russian Demands In Vienna Talks As Blackmail
Russian foreign minister's demand for guarantees from the US that sanctions over Ukraine would not affect its relations with Iran has outraged many in Iran.
Russian Foreign Minister Sergei Lavrov said Saturday that international sanctions against Russia over Ukraine could create "problems from the point of view of Russia's interests" in its dealings with Iran. Moscow is expected to play a central role in implementing a renewed JCPOA, especially in removing Iran's excess stocks of enriched uranium.
Lavrov has asked for guarantees from the US, at the minimum level of Secretary of State, that US sanctions over Ukraine would not affect Russia's "right to free, fully-fledged trade and economic and investment cooperation and military-technical cooperation with Iran" under the terms of the JCPOA.
'Putin's grenade'
Several conservative websites -- which unlike the state-run and hardliner media have reported Lavrov's remarks -- chose headlines that clearly indicated outrage.
These websites saw the Russian move not as an attempt to protect the JCPOA from US sanctions against Russia but as a conspiracy. Entekhab ran the headline "Putin's Grenade Under Negotiation Table For Restoration of JCPOA." Tabnak demanded to know "whether Russia's demand for written guarantee from the US is creating impediments in the process of [Vienna] talks or not…"
Aftab News ran a commentary headlined "Russia's War on Ukraine and Blackmail in Vienna, Is Putin Shooting At JCPOA?" and demanded an immediate Iranian response. Not to be outdone, the reformist Etemad newspaper's website ran the headline "Russia Pour Out Its Poison, Moscow Ties Nuclear Deal To Ukraine War."
Ali Naderi, managing-director of the official news agency IRNA, advising calm, tweeted Saturday afternoon that China was at one with Moscow in asking "for valid written guarantees from the US regarding future economic relations with Iran."
Carving a huge hole
Wall Street Journal, which last month in an editorial criticized any talk of "sanctions relief [for Iran] even before an accord is struck," cited a "western diplomat" Saturday that Lavrov might be "using this as a play to try to carve a huge hole out of the overall Ukraine sanctions." This would be "a different story," the diplomat suggested, from guarantees simply over work directly linked to a restored JCPOA.
Reuters on Saturday cited a "senior Iranian official" making a cool response to Lavrov's remarks and calling Russian moves "not constructive" for the Vienna talks. "Russians had put this demand on table since two days ago," the official said. "There is an understanding that by changing its position in Vienna talks Russia wants to secure its interests in other places."
On social media, conspiracies past and present abounded. Some twitterati dredged up the notion that former Foreign Minister Mohammad Javad Zarif had in March 2021 accused Russia of somehow trying todestroy the 2015 deal by using Iranian ground troops in the Syrian war.
Moscow has publicly supported the JCPOA and has called on both Washington and Tehran to abide by it. Diplomats in Vienna had, at least until now, stressed the importance of isolating the Iran nuclear program from other issues.