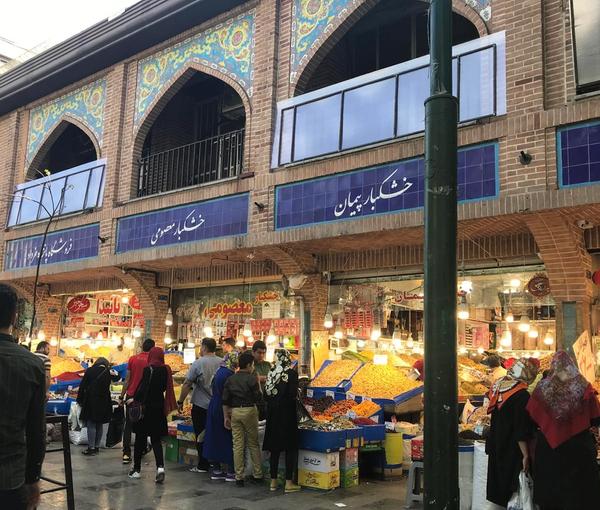 Food Prices Keep Rising In Iran Ahead Of Persian New Year
With only a few weeks left until the new Iranian year on March 20, prices of essential food items are still rising at alarming levels, local media report.
The last weeks of the year in Iran are traditionally the time that the prices jump in anticipation of more demand and this year is no exception, especially with general inflation hovering around 40-percent for the past year making the situation worse.
Food prices have been rising much faster, with government figures showing above 60-percent inflation at retail level in 2021, compared with 2020.
Sugar and different types of rice are usually items with highest price increases followed by different kinds of meat, chicken and eggs as well as cooking oil.
Each year the government announces some measures to control the prices such as supplying subsidized food items, distributing basic goods through state-owned chain stores, banning exports or punitive measures for wholesale middlemen or retailers who don't abide by state-regulated prices. Usually, all such measures turn out to be ultimately in vain and only lead to more tension in the market or corruption by state companies who control the distribution of sugar, rice and other basic food items.
In recent months, prices for rice – which is the main staple food in Iranian diet -- experienced a lot of fluctuations, reaching to about 1,000,000 rials (about $4) per kilogram, which is enough for five to eight people for one meal and many families eat some rice-based meals twice a day. However, an average Iranian wage-earner gets $100 to $200 per month.
To regulate the rice market, the government recently started fixing the price of this commodity, and the Agriculture Ministry announced a price list for different types of Iranian and foreign rice.
But still consumer prices at grocery shops are different from those announced by the authorities. When the ministry's inspectors confront the wholesalers and retailers about their higher prices, their response usually is that they rather close their businesses than sell their goods at government prices and lose money. Somewhere in the supply chain prices go up and especially retailers complain that they pay much more than the official price.
In addition to rice, the red meat market is also in so much turbulence that the government has banned the export of live cattle to prevent rising prices.
According to data provided by the Trade Ministry, the price of one kilogram of beef in December was over 40 percent more than that of the corresponding period in the previous year.
The head of Cattle Farmers Association, Ahmad Moghaddasi, told Mehr News that producers' prices have not changed in recent months, but retail prices have jumped dramatically.
He criticized the authorities for failing to control the prices in the meat market, stating that "unfortunately the brokers and intermediaries are stronger than the authorities," therefore they benefit from the losses of both producers and consumers.
The highest price increase is related to sugar, which jumped by 76 percent compared to October 2020 as the government stopped allocating cheap dollars for its import.
Since April 2018, Iran has been providing US dollars to importers of essential goods at the preferential rate of 42,000 rials, while the dollar has steadily climbed against Iran's rial, reaching 290,000 in November.
This was in fact a food subsidy first provided when looming US economic sanctions in early 2018 were already creating high inflation in the country.