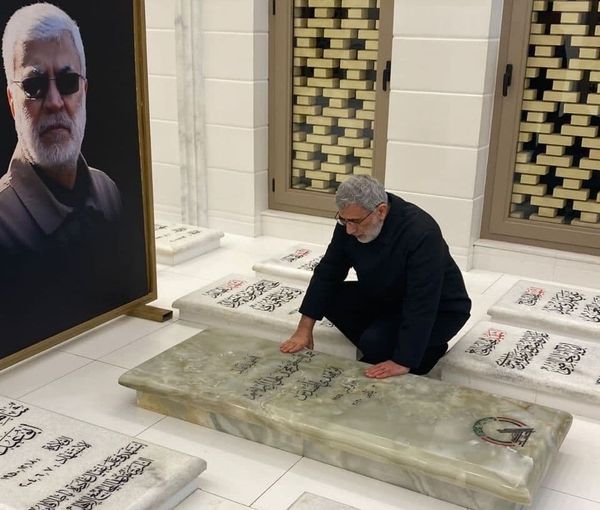 Iran's Qods Commander In Iraq Amid Strife Among Shiite Groups
The commander of Iran's Revolutionary Guards' Qods force is in Iraq amid tensions between the Sadrist Bloc and other pro-Iran Shiite formations.
Iraqi media published photos and videos of Brigadier General Esmail Ghaani (Qaani) Sunday night as he was visiting the Wadi al-Salaam cemetery in the city of Najaf.
In the footage he was shown paying homage at the shrine of Grand Ayatollah Muhammad Sadiq al-Sadr (father of Muqtada al-Sadr), and Abu Mahdi al-Muhandis, the deputy head of the Popular Mobilization Forces who was killed alongside Ghaani's predecessor Qasem Soleimani in a US air strike in January 2020.
Ghaani is reportedly set to meet with Iraqi politicians, trying to resolve the differences among Shiite groupings in the next Iraqi government.
Earlier in January, Iraq's parliament finally held its inaugural session that descended into a furious chaos, in which one MP was hospitalized.
One of parliament's first tasks is electing the country's president, who will then name a prime minister tasked with forming a new government.
The movement of Moqtada Sadr – who is against Iran's presence in Iraq -- won the majority with 73 out of the assembly's 329 seats, but pro-Iran groups claim they can muster the backing of 88 lawmakers to make a bigger coalition.
Iran's interference in Iraqi affairs led to large protests in 2019 that lasted for months.