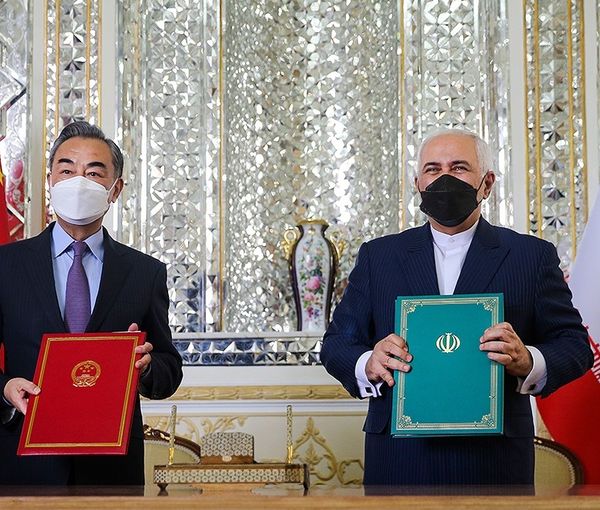 Many Iranians Critical Of Long-Term China, Russia Deals
Many Iranian have been expressing resentment over a 25-year cooperation agreement with China and a proposed 20-year deal with Russia, saying it is a sell-out.
Although Iran has not revealed the details of the agreement with China and what it will entail in political, economic and military terms, some social media users go as far as claiming that the Islamic Republic is "selling out the country and its people" to China and Russia.
Not only politicians and the reformist media, but also many ordinary Iranians are wary of the consequences of too much reliance on the two powers, without simultaneously improving relations with the West to create a balance.
Others are wary of Russia's proactive role in the ongoing nuclear talks in Vienna and insist that Iran should directly negotiate with the US instead of allowing the interference of mediators like Russia.
"It is true that striking a deal with China is not a problem, but such agreements should not be limited to China and Russia. There should be long-term agreements with China and Russia as well as the United States and Europe to create a balance in foreign relations and reap the political and economic benefits of such balance for the nation," one Twitterati opined Sunday.
A man holding a sign in Iran that says, "Iran not for sale - China, Russia get lost".
Many also say they do not believe that China and Russia can be considered as Iran's strategic allies and partners. As permanent members of the UN Security Council, Russia and China did not block punitive UN sanctions resolutions over Iran's nuclear program a decade ago. "A sanctioned Iran is a gold mine for them," another Twitterati wroteSunday.
Some ordinary Iranians who are opposed to long-term deals with the two Eastern powers have been posting photos of themselves with posters expressing their disapproval. Some have taken their photos in front of government buildings and other landmark buildings to prove that they are posting from inside Iran, not from foreign countries as officials often claim, to discredit domestic critics.
Hardliners claim that closer economic and political relations with the East and Asian countries, which Iran's Supreme Leader Ali Khamenei has promulgated with the catchphrase "Looking East", will help Iran's development and strengthen it against Western powers, particularly the United States. Since 2018, and Khamenei's advocation of the policy, "Looking East" has become one of the centerpieces of a 'revolutionary economy' which hardliners have been hard at work to theorize.
Although Iranian officials for months said a 20-year strategic agreement with Russia had entered the final stages of drafting and even been almost finalized, the spokesman of the parliament's National Security and Foreign Policy Committee said Sunday that signing an agreement will not be on the agenda of President Ebrahim Raisi's visit to Moscow this month.Such an agreement requires further investigation and preparations, Mahmoud Abbaszadeh-Meshkini told Fars news agency, and added that the two sides will discuss the preliminaries of the agreement during the visit.
The Russian side has not shown any enthusiasm about the deal sought by Iran's hardliners although the two countries had a 20-year agreement which expired.
According to an opinion survey by Gamaan polling agency in the Netherlands with a sample population of over 20,000 Iranians living inside Iran that was published October 27, 65 percent of respondents had a negative view of China and Russia. In the same survey 40 percent said they viewed the United States negatively.