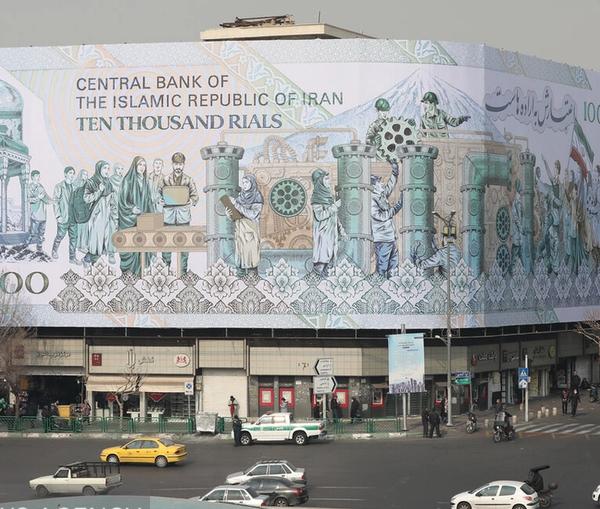 In Absence Of Official Stats, Media In Iran Say Inflation Is At 70%
A news website in Iran has warned that high inflation was detrimental in the fall of the Roman Empire, as the government conceals data to hide galloping prices.
Fararu website, considered to be moderate in Iran's government-controlled media environment, wrote on Thursday that as Roman emperors reduced the silver content of their Denario coins, the foundations of the empire began to crumble.
Meanwhile, another website, Ecoiran quoted a central bank source on Wednesday as saying that inflation in the first Iranian month of the year (March 21-April 20) rose by 68.7 compared to the same period last year. Just in that one-month prices jumped 5.2 percent, with the previous month witnessing another substantial hike of 6.6 percent.
If true, this would represent a nearly 20-percent jump compared to the inflation rate last reported by the government in early 2023.
The Central Bank of Iran and the Statistical Center of Iran have not released figures on point-to-point inflation for the past two months, comparing prices to the same months in the past year.
The period in question coincides with persisting low exchange rates for the Iranian currency, rial, which has nearly halved in value since mid-2022. 
One year ago, the rial was trading at around 300,000 to the dollar, while in early May it dropped to as low as 550,000.
A woman shopping in Tehran with Iranian currency in hand
Rial's huge drop tells the story of inflation in Iran. The country has to import a large part of its food, animal feed, medicines, raw materials and finished goods it needs. As the local currency loses value, imports become more expensive and higher prices have to be passed on to consumers.
The alarming comparison with the Roman Empire is not too far-fetched, as Iran faces a more immediate danger of rebellion by ever-impoverished masses. 
Although large-scale anti-regime protests in the fall of 2022 were driven by social and political oppression, but the current economic crisis was also making hopeless young people restive. Also, labor unrest began to rise in 2023, as workers' real incomes declined.
It is important to note that price inflation is highest in the food sector, which even last year was estimated to have been between 70-100 percent. Reports began to emerge as early as 2021 that Iranians were cutting down on consumption of meat and dairy products. Recent reports have spoken of lower-income families cutting down on nutritious food and unable to afford many types of fruits and vegetables.
Iran has been suffering from lack of economic growth for more than a decade as international sanctions reduced its oil export revenues that were vital for financing an inefficient government and its more inefficient control of the economy.
But the regime has insisted to stick to its controversial nuclear program that brought about the sanctions in the first place. A brief respite came in 2016-2017, when the JCPOA accord with world powers lifted UN-imposed sanctions, but former US President Donald Trump withdrew from the deal and imposed unilateral sanctions in 2018.
Inflation soon began to surpass 20 percent and the rial started to nosedive, eventually losing value by 12-fold. 
Even politicians loyal to the regime have begun harshly criticizing President Ebrahim Raisi's government for its inability to address the crisis, but almost no insiders openly say that the decision to resolve the nuclear dispute lies with the Iran's anti-West ruler Ali Khamenei.
Iran's high inflation rate is just behind other a few other troubled economies in the world, such as Venezuela, Sudan, Argentina and Zimbabwe.