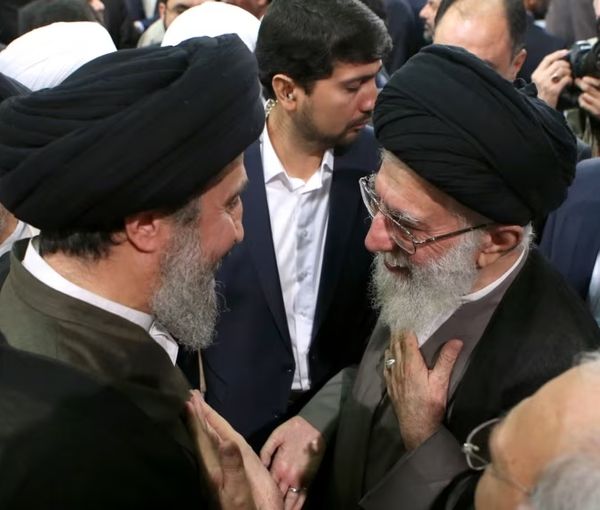 Exclusive: Iran's Quds Force Media Arm Laundering Money In Iraq
Iran International has obtained more information revealing that an aide to former Quds force commander Qassem Soleimani is a key figure in money laundering for Tehran.
Hamid al-Husseini is an Iraqi-born Shiite cleric who is the head of Iraq's section of the Islamic Radio and Television Union (IRTVU), an affiliate of the Iranian Ministry of Culture and Islamic Guidance that is practically run by the Revolutionary Guards (IRGC). The union has more than 200 media outlets in 35 countries, including 100 satellite TV channels, 30 radio stations, and dozens of websites -- several of which are in Iraq.
Al-Husseini has close connections to the Office of Supreme Leader Ali Khamenei and a was trusted companion of former Soleimani, who was killed in a US drone strike in January 2020.
The Iraqi city of Najaf issued an arrest warrant for Husseini on terrorism charges in 2021, accusing him of orchestrating an attack on the Al-Rafidain Center for Dialogue. However, Iraqi authorities have not acted upon the warrant. 
Al-Rafidain Center for Dialogue is a non-governmental organization established in Najaf in 2014 to shape public opinion in support of the democracy, peace and sustained development, but al-Husseini – under the influence of Khamenei – believes that the center is tasked with normalizing relations with Israel.
Hameed al-Hussaini, the director Iraq's section of the Islamic Radio and Television Union, and former Quds force commander Qassem Soleimani
According to Iran International's Mojtaba Pourmohsen, al-Husseini has managed to get the right to broadcast football (soccer) matches in Iraq for the Popular Mobilization Forces, an Iranian controlled Shia umbrella organization of more than 60 different armed factions, with around 128,000 fighters.
Apparently, al-Husseini has been using the media empire to promote the ideology of Iran's ruler as programs on the sidelines of the matches. However, according to the Financial Action Task Force (FATF), a global anti-money laundering watchdog, the cash-rich sport is among the most vulnerable to money laundering, with the United Nations Office on Drugs and Crime estimating that about $140 billion is laundered globally through soccer each year. 
Hacker group Backdoor (3ackd0or) provided Iran International with documents showing al-Husseini and several other people working with him launder money for the Islamic Republic in Iraq.
Al-Husseini, who also has an Iranian citizenship ID and a home in one of the northern neighborhoods in the capital Tehran, has connections in Iraq's financial institutions and uses them to launder money for the IRGC and the Iranian regime.
Hameed al-Hussaini, the director Iraq's section of the Islamic Radio and Television Union (right) and Iran's President Ebrahim Raisi
Moreover, the Islamic Radio and Television Union provides militia media outlets in Iraq with financial, technological, and organizational support, helps train their personnel, and devises a unified strategy for them to follow, according to the Washington Institute.
The US Treasury Department designated the IRTVU in October 2020 for being owned and operated by the IRGC's Quds Force, in effect extending its designation of the IRGC as a Foreign Terrorist Organization to its media arm. The Treasury Department said at the time that IRTVU is "a propaganda arm of the IRGC-QF." Not only does the IRGC have a hand in directing the military operations of Iranian-backed proxies, but it also takes a role in their media affairs, advocacy group United Against Nuclear Iran (UANI) said.
According to UANI, the US Department of Justice (DOJ) seized 33 websites used by the IRTVU in June 2021, including those associated with Al Alam TV and Press TV, adding to the 92 IRGC-linked domain names seized in 2020, based on a prior Department of Justice (DOJ) determination that the IRTVU disguised itself as a legitimate "news organizations or media outlets [to] target the US with disinformation campaigns and malign influence operations."
Earlier in the year, Iran International unraveled some details about the inner workings of a Quds force unit tasked with smuggling money from Iraq to Iran. 
Hameed al-Hussaini, the director Iraq's section of the Islamic Radio and Television Union, at the office of IRGC-affiliated media outlet Tasnim news agency
According to the information, the Islamic Republic's embassy in Iraq is also involved in the money laundering operations aimed at funneling revenues from oil and gas exports back to Iran. As per a repeatedly extended sanctions' waiver by Washington, Tehran is only allowed to import medicine and some essential goods from Iraq in exchange for its exports.
This financial network is bypassing the US sanctions at the cost of the Iraqi economy. An informed source in Baghdad told Iran International late in December that Washington has received reports that Iraq is still conducting trade with Iran using US dollars despite sanctions.
The dinar went into a tailspin against the dollar after the New York Federal Reserve imposed tighter controls on international dollar transactions by commercial Iraqi banks in November to halt the illegal siphoning of dollars to Iran.
Under the curbs that took effect in January, Iraqi banks must use an online platform to reveal their transaction details. But most private banks have not registered on the platform and resorted to informal black markets in Baghdad to buy dollars.