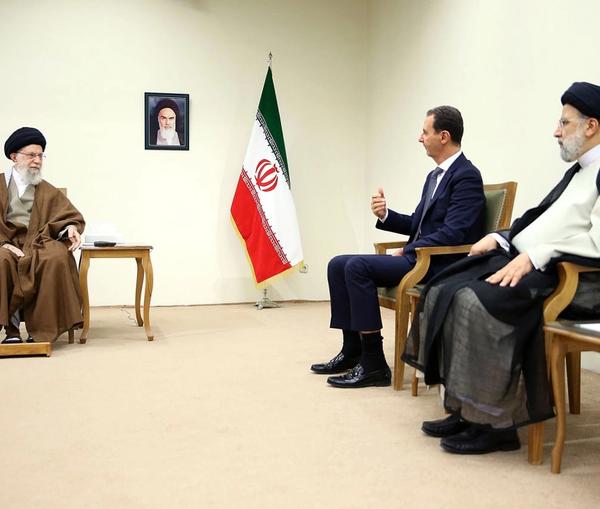 Media in Iran Discuss Raisi's Visit To Syria With Little Excitement
Media in Iran and the region have been speculating on the purpose and implications of President Ebrahim Raisi's two-day visit to Syria this week.
While media in Iran mainly dealt with Tehran's benefit from 12 years of fighting in Syria, reports from the region were mainly factual and often based on Iranian agencies' output. 
Raisi's visit to Damascus is the first such visit by an Iranian President since the start of war in Syria 12 years ago.
Khabar Online quoting Israeli media said that Israel is worried about Raisi's visit to Syria. The website also quoted former diplomat and an Iranian expert on the Middle East Sabah Zanganeh, a political figure close to Supreme Leader Ali Khamenei, as saying that Iran has supported Syria's territorial integrity and Syrian people's security during the past 12 years. 
Middle East expert Sabah Zanganeh
Iran intervened in Syria as soon unrest began in 2011 and reportedly played a major role in pushing the Assad regime to use overwhelming military force against the opposition.
Zanganeh reiterated Iranian regime's rhetoric that insecurity in Syria can also affect Iran's security. Therefore, it is essential that the two countries' officials cooperate and coordinate their efforts about dealing with terrorism in the region which hinders trade with Iran via Syria's Mediterranean ports, a flimsy excuse given the fact that major ports remain under government control. Zanganeh's statement contradicted Iran's official claims about having ended terrorism in Syria.
Zanganeh generally described the purpose of Raisi's visit as discussing regional issues. Khabar Online noted that the foreign ministers of Egypt and Saudi Arabia have already visited Damascus, and Raisi's visit can facilitate talks between Damascus and Riyadh.
In a rather pessimistic report, Etemad Online quoted former senior diplomat Ebrahim Rahimpour as warning that Iran should stay alert to reap the benefits of its long and costly support for Assad's regime. He also argued that Assad should visit Tehran to thank Iranian officials for their help and support which has led to his survival. 
He pointed out that Assad's previous visit was done secretly and some Iranian officials including former Foreign Minister Javad Zarif were kept in the dark about his visit. This time he should visit Iran in the same manner he recently visited some Persian Gulf states. 
former senior diplomat Ebrahim Rahimpour
Rahimpour claimed that Iran has more influence than Russia in Syria. Meanwhile, he said that Iranian officials should not limit their foreign visits to a few countries. He was obviously mindless of the fact because of sanctions most Iranian officials cannot visit more than a handful of countries. 
Rahimpour added that during Raisi's visit, Tehran should complain about Syria taking part in meetings with Russia and Turkey without Iran. He said ironically, "some of those we help, tend to forget us when their problems are solved." 
Among the media in the region, Al-Ahram's report in Egypt was totally based on the output of Iranian official news agency IRNA. The report called the visit "very important" without saying why. It also used Iran's rhetoric which called Raisi "Doctor Raisi." 
Syria's official news agency SANA featured a very brief report with formulaic sentences such Raisi will be accompanied by " a high-ranking political and economic ministerial delegation," and that he will discuss with Assad "positive developments in the region."
London-based Asharq al-Awsat reported about Iran's plans to invest in the energy sector in Syria and quoted Arabic sources as saying that Syria is looking forward to an agreement with Iran in the areas of energy and electricity.
However, the fact is that Iran is in a financial crisis and unable to invest even in its own energy sector, starved of money and technology.