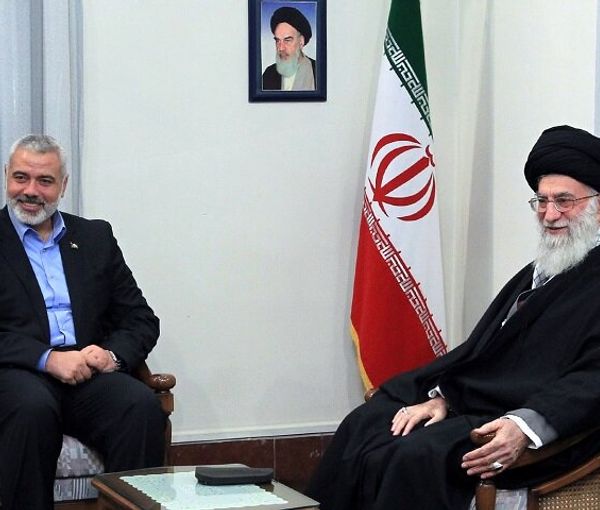 Hamas Pushed Iran Into Inviting Leader To Garner Financial Aid
Iran International has learned that Palestinian militant group Hamas pressured the Islamic Republic into inviting its leader to Tehran hoping to get financial support.
According to our sources, the official invitation of Hamas leader Ismail Haniyeh was made following numerous requests because the Palestinian group is struggling with financial problems.
Haniyeh is expected to visit Iran in the near future, the Gaza-based terror group announced last Friday, April 28. Haniyeh's visit will be in relation to "political and field developments," Hamas said, with Haniyeh expressing thanks and appreciation for the call, confirming his acceptance of the invitation and his intention to go to Tehran soon.
Iran International's sources claimed that Hamas' assets have been confiscated in several countries and currently the channels through which the group could receive aid in cryptocurrencies such as Bitcoin are also blocked. Therefore, the group sees the Islamic Republic as among its few sources of income.
Palestinian group Hamas' top leader Ismail Haniyeh talks after meeting with Lebanon's President Michel Aoun, in Baabda, Lebanon June 28, 2021
The sources added that although the Islamic Republic continues to provide financial aid to Hamas despite its own economic situation, Tehran is not satisfied with the performance of this group against Israel and is unlikely to give more aid to this group.
In December, Palestinian Arabic language daily newspaper Al-Quds cited informed sources in Lebanon as saying that the Islamic Republic had cut off its financial support for some Palestinian groups, without specifying which groups. General belief is that the Palestinian Islamic Jihad Movement, Hamas and the Popular Front for the Liberation of Palestine were the main recipients of financial aid from the Islamic Republic, among which Hamas and Islamic Jihad are known to be receiving the lion's share of Tehran's aid.
Hamas leader Ismail Haniyeh (L) and Iranian President Ebrahim Raisi at the latter's office on August 6, 2021
According to Al-Quds sources, these groups depend on Iran's financial aid to pay the salaries of their leaders and members as well as the expenses for other activities. The Islamic Republic's cutting off aid caused serious problems both in the Gaza Strip and outside the Palestinian territories, to the extent that in some cases, these groups and their leaders have not been able to pay their utility bills, the paper reported.
In March 2022, Haniyeh revealed that the Islamic Republic paid a total of $70 million to Hamas to help it develop missiles and defense systems.
During an interview with Al-Jazeera, Haniyeh said different countries help in financing the group, but Iran is the biggest donor. The head of Hamas political bureau added that thanks to the aid from Iran, his group managed to have a comprehensive defense strategy in its confrontation with the Israeli military in the Gaza Strip in 2021.
He was referring to the two-week outbreak of violence in May 2021 that was called operation "Sword of Jerusalem" by Hamas but dubbed operation "Guardian of the Walls" by Israel. Hamas reportedly fired more than 4,000 rockets and missiles at Israel, most of which were intercepted by the Israeli Iron Dome defense system.
Haniyeh added that Iran backs the Shiite groups within its framework of support for the "axis of resistance" in the region – a term used by Tehran for its aligned militia forces -- noting that Tehran also supports Sunni movements against Israel.
Following normalization of its ties with Iran and Syria, Saudi Arabia also invited a senior delegation of Hamas to the kingdom in April. With China's mediation, Saudi Arabia normalized ties with Iran on March 10 and returned its relations with Syria to the level before the Syrian war. The Saudi embassies in Iran and Syria are scheduled to reopen in the coming weeks.
The Hamas-affiliated al-Resalah newspaper wrote said at the time that Haniyeh, and the head of Hamas Diaspora Office Khaled Mashaal, who have been living in Qatar in the past years, traveled to Riyadh at the head of a high-level delegation. In recent years, relations between Hamas and Saudi Arabia have been tense, with the Kingdom detaining some members of the group, accusing them of supporting terrorism. The tensions mounted as Hamas drew closer to the Islamic Republic.
In December, Lebanese media reported that Hezbollah is also facing financial problems due to the situation in Iran, as it cannot import Iranian goods to sell at a discount to its supporters.
Israeli Foreign Minister Eli Cohen earlier in the year that "Iran is like a cancer. It finances Hamas, the Jihad, and Hezbollah." Late in April, Iran's Foreign Minister Hossein Amir-Abdollahian met with heads of two of the regime's terror proxies -- Hezbollah and Palestinian Islamic Jihad Movement -- during a visit to Lebanon.