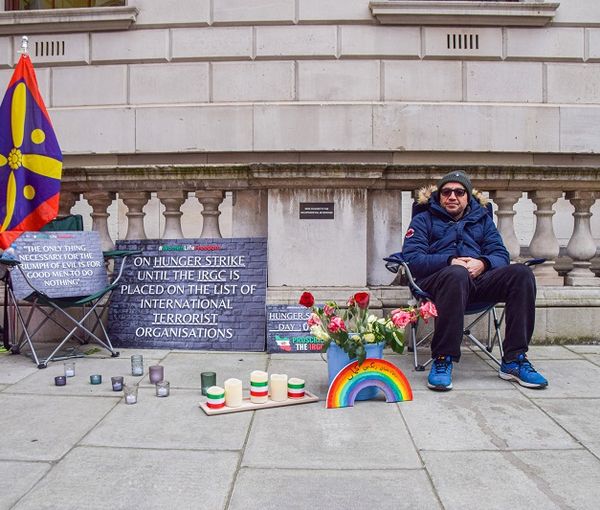 Iranian Hunger Striker Again Urges UK PM To Proscribe IRGC
Iranian activist Vahid Beheshti, on a hunger strike in London since February 23, has once more called on Prime Minister Rishi Sunak to designate the IRGC as a terrorist organization.
Beheshti has been battling the bitter winter outside the UK Foreign Office to raise awareness for the need to designate the IRGC responsible for the deaths of hundreds of Iranian citizens since September.
In his third and letter on Monday, he reiterated his desire to meet PM Sunak, adding that "Today marks my 40th day of hunger strike and as I have told the media in recent days, my body grows ever weaker, yet internally, I grow ever stronger in my conviction that this is the right thing to do."
Beheshti called his request to the British government "simple and at the same time, very important" emphasizing the urgency of proscribing the IRGC.
He said the designation urgently needs to happen, not only for the people of Iran who yearn for democracy, but also for the people of Britain and "the values we uphold".
"As long as we continue with our appeasement policy, the IRGC will continue with their hostage taking policies," he said. "They only understand one language, pressure and strong leadership."
Beheshti has not eaten in 41 days and lost over 13kg or about 17% of his body mass. In the past days, a group of other Iranians also joined him and set up tents next to him.
The Telegraph reported in February that "Joe Biden's diplomats are pressing the UK Government not to formally declare Iran's Revolutionary Guard a terrorist group, despite the Home Office backing the move…" It added that the US is saying Britain should keep doors open in case of a need to be an interlocutor.
Many politicians in Europe have been urging the designation of the IRGC as a terror organization in the wake of bloody violence against protesters in Iran and other malign activities.
European Union officials, however, have delayed the move arguing that such a decision must be backed by a legal determination of a European court.