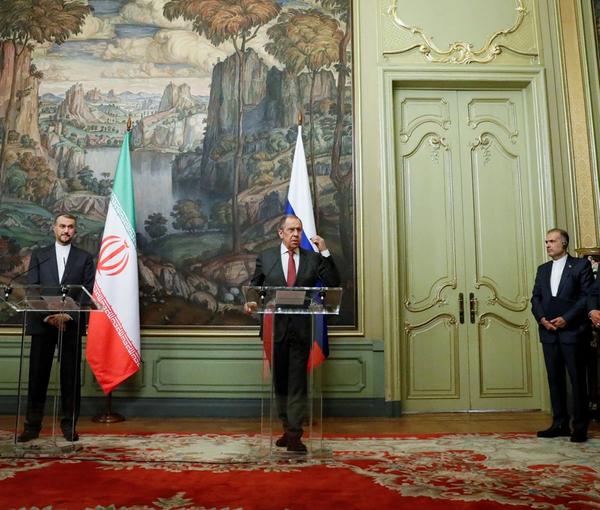 Iran Minister Says Tehran, Moscow To Sign Long-Term Deal
Russian and Iranian foreign ministers have exchanged views on signing a long-term strategic agreement, Tehran's nuclear issue and the war in Ukraine.
Iran's Foreign Minister Hossein Amir-Abdollahian met with his Russian counterpart, Sergey Lavrov, on an official visit to Moscow amid expanding military cooperation and supplies of Iranian weapons for Moscow's invasion of Ukraine.
The chief Iranian diplomat said that talks mainly focused on economic and security ties.
At a joint press conference on Wednesday, the Iranian top diplomat stated that various avenues of relations between the two countries including economic, commercial, political, cultural, security and defense have been fully discussed.
Amir-Abdollahian further expressed readiness to sign a long-term agreement between Moscow and Tehran.
Russian Foreign Minister Sergei Lavrov shakes hands with Iranian Foreign Minister Hossein Amir-Abdollahian during a news conference following their meeting in Moscow, Russia March 29, 2023.
Iran and Russia had a long-term cooperation agreement signed in 2001 and renewed once for a ten-year period that lapsed in 2021. Iran has been frequently declaring that a new and more comprehensive deal will be signed, but so far Moscow has not taken action to kick off the process of talks leading to a final treaty.
The Iranian foreign minister also added that the deputy foreign ministers of the Islamic Republic, Russia, Syria and Turkey will hold a meeting in Moscow next week.
"Its main goal is to bring the views of Turkey and Syria closer. Tehran and Moscow will do their best to see this happen. If a framework is determined in the talks, the next round of the meeting can be held at the level of foreign ministers," noted Amir-Abdollahian.
Regarding attacks on American bases in Syria last week and US retaliation, he noted that "there have been incidents in the region and unfortunately, the Americans made baseless accusations saying the attacks were launched by Iran-affiliated groups. Americans made hasty judgments before providing no documents to prove their claim. We are not looking for conflict and tension. Iran has always played a constructive role and our response to the American side was clear and decisive in the events east of the Euphrates."
Russian President Vladimir Putin (left) Iran's Supreme Leader Ali Khamenei (center) and President Ebrahim Raisi in Tehran on July 19, 2022
US warplanes launched retaliatory air strikes against drone and rocket attacks targeting US bases in northeastern Syria launched by proxy forces controlled by Iran's Revolutionary Guard, the IRGC, last Thursday and Friday.
The Pentagon and the Biden administration, while reiterating their determination to defend US personnel, emphasized that they were careful in their military strikes to minimize loss of any Iranian lives and collateral damage.
Iran's foreign minister, referring to tensions between Armenia and Azerbaijan, emphasized that Tehran rejects any geopolitical change in the region and believes that different parties should be involved to resolve issues through dialogue and political solution.
Elsewhere in his statements, Amir-Abdollahian stressed that he will meet with the Saudi Foreign Minister Prince Faisal bin Farhan Al Saud soon reminding that some differences in views are normal, but it does not prevent the reopening of embassies and consulates.
After seven years of soured political relations, Iran and Sadi Arabia signed a deal earlier this month brokered by China to resume times and open embassies in the respective capitals.
Regarding the war in Ukraine, the Iranian foreign minister said Iran welcomes the idea of the Chinese President XI Jinping regarding world peace and security.
"We welcome any initiative that leads to sustainable peace and security in the region and the world. It is important to take action in this framework," he noted.
XI has offered to mediate between Russia and Ukraine to end the war, but Western powers have dismissed the offer, which could prolong Russia's occupation of Ukrainian territory.